Outline+ Is A Powerful OneNote Client For iPad With Dropbox & Box Syncing
Although it is not often the case, there are examples where a superb service gets a seriously underwhelming official iOS client. In the opinion of many, OneNote is one such service that is generally adored on desktop, but Microsoft's official iOS app for it lacks a lot of features and has failed to garner much praise. OneNote could have been the perfect service for a majority of iPad users, but its rather plain iOS client forces most people to treat it just as an app that can only be used in a pinch. Outline+, on the other hand, is the kind of app that could very well make you want to use OneNote on your iPad rather than on your PC. Not only does Outline+ enjoy complete OneNote support (letting you freely import your OneNote files), it comes with the full array of editing and note management options, and completely preserves the formatting, tabs, links and images from each note imported to Outline+ from OneNote. On top of all that, you can sync notes with the cloud and secure the entire app with a passcode lock.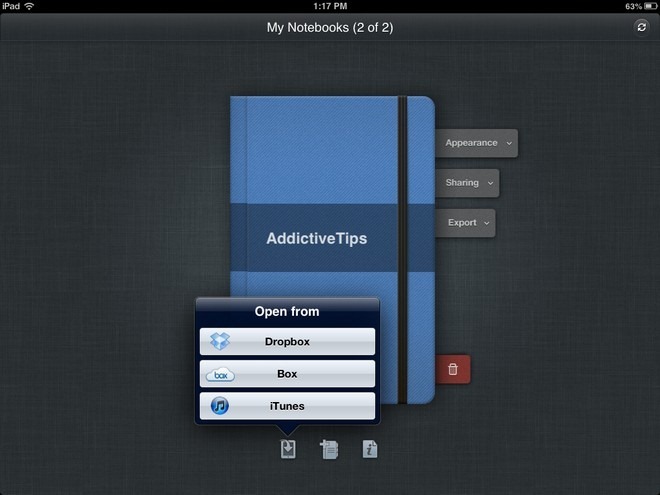 There are three ways you can import OneNote files in Outline+. The app supports two-way syncing with iTunes, Box and Dropbox. Tap the sync button located in the top-right corner of the app's main screen in order to set up accounts for one or all of these options. The app comes with an existing notebook that serves the dual purpose of providing you with useful tips regarding Outline+ and showing off the way notes appear in the app.
Notebooks stored in Outline+ can be edited and customized in every possible way. You can change the Appearance (cover and color) of a book from the main screen. All the other customization options are available inside the notebooks.
Notebooks can be created, exported and shared from the app's homescreen. To add text to (or edit) an existing notebook, open it and long-tap any area on one of its pages. Text editing options include basic formatting, fonts, text size, indentation, alignment, etc. You can also choose to add images to a page simply by hitting the photo library or camera buttons in the sidebar. Editing is done best in landscape mode, as that way, you get a better view of the page hierarchy.
New tabs and pages can be added to each notebook. To be able to read the notes more conveniently later, you can even add particular parts of a document to your favorites.
As mentioned earlier, the notes created in OneNote 2010 are fully compatible with Outline+, and can be both read (with fully preserved formatting) and edited. OneNote 2007 files, however, can only be read.
Outline+ is originally priced at $14.99, but has gone free for a limited time. Grab the app from the link below while the offer stands.