Read & Manage Your Digital Comics On iPhone & iPad With YACReader
Comics and iOS devices have been companions for a long time, with apps like ComiMix for browsing through your favorite strips without much effort. Having said that, any app that taps into an online collection to bring you comics can only provide you with a limited number of choices. You might already have a decent collection of digital comics on your computers, and it seems like a terrible waste if there isn't a way of importing that collection to your iDevice. Thankfully, we have cross-platform comic readers like YACReader, which is capable of handling almost all popular comic formats. The app has been around for all major desktop platforms for quite a while, and it is nice to see it finally making a mobile presence. The newly released iOS app doesn't disappoint at all, as it offers a clever way of scrolling through strips, lets you import files from various sources and has a customizable interface.
There are three ways of importing comics to YACReader. You can link the app with Dropbox, grab files from your computer over Wi-Fi, or use the easiest method of USB file transfer via iTunes. Once the files have been imported, they don't appear inside the app straight away; you have to hit the 'Check new Comics' and 'Import' buttons to access the imported comics. From the YACReader 'Settings', users get to choose the background color for the main screen as well as the comics. The app also displays the storage space you have left on your iPhone, along with the total number of files stored in YACReader.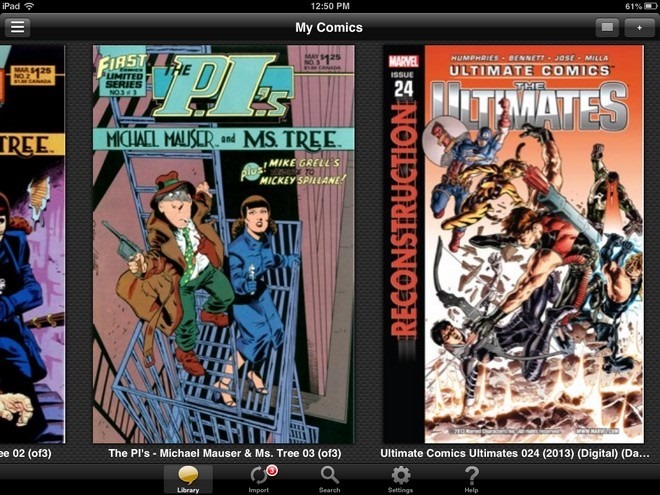 All the comics stored in the app show up in 'Library'. You can also choose to perform a search for a particular file if the collection is quite large. The comics in the library can be viewed as thumbnails, full covers or a list.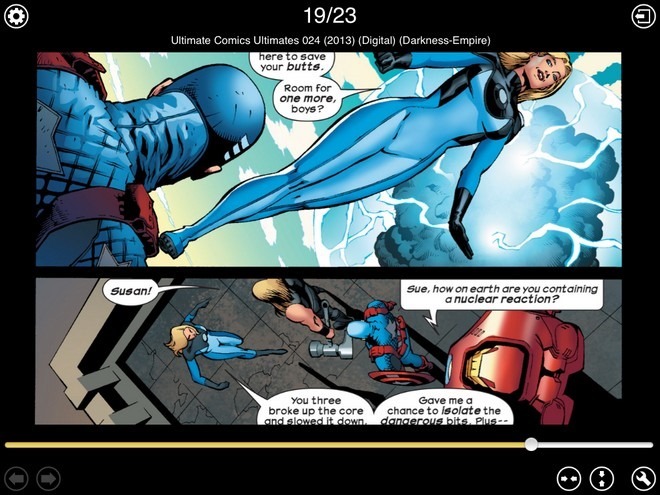 The actual file viewer in YACReader is pretty decent. You can navigate between different pages by simply tapping different edges of the screen. The scrolling process is pretty smart and can take you to different areas of a page or other parts of the comic based on your current position. Other than the amazing one-tap scrolling options, there is also the more mundane scroll bar at the bottom of the screen, which can come in handy when you want to jump several pages ahead.
YACReader is $1.99 universal app. If you are an existing user of the tool on your computer, the iOS app is sure to appeal. Even if you are just a fan of comics and haven't heard of YACReader before, the iOS app might be worth a shot.