Reddzine: iPad Reddit App With A Gorgeous Pinterest-Like UI & Native Video Playback
Unless you have been a Reddit user for a long time, the service can be a little overwhelming, with so much data presented on its pages. To counter this problem, a slew of Reddit clients are available on all major desktop and mobile platforms. Not only do Reddit clients make it easier for users to find the best content, they are usually more pleasing on the eye, too. Reddzine is an iPad client for Reddit that treats the social blogging platform as a magazine. All the best and recent posts in your favorite subreddits will be organized in a beautiful Pinterest-like grid, and a single tap is enough to view the video, image or post in greater detail. The app comes with a browser of its own that is used when you click a link in one of the listed posts. Arguably, the app's best feature is its native video player. Videos from all supported services are played within the same page, without you even having to navigate away to the built-in browser.
Rather than showing a lot of different menus, and confusing Reddit users, Reddzine has just one page, with all available browsing options. By default, the Pics subreddit is loaded, but you can change that by entering a different one in the text field at the top. The subreddit field supports real-time suggestions. That is, it automatically starts suggesting subreddits as soon as you start entering text. While browsing a particular subreddit, you can change a lot of things about the way posts are displayed by tapping the settings icon in the top-right corner. A subreddit can be sorted based on Reddit's Hot, New, Top and Controversial filters. Choosing a particular time frame is possible, too. It is from the same Settings menu that you can log in to your Reddit account, or toggle off the NSFW filter. To bookmark a subreddit for quick access, hit the star icon next to its name.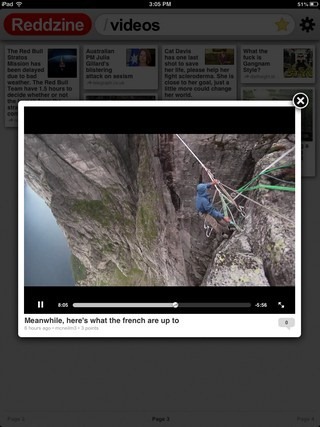 If you are signed in to your account, and make an in-app purchase of $2.99, the app will let you view comments on posts or add your own. Fortunately, you can upvote or downvote a post without Reddzine Pro, but that's about it. The post viewer in the app is pretty decent, and lets you browse anything without having to navigate away to Safari. As mentioned before, Reddzine sports a built-in browser and video player. Videos can be played in the same pop-up window that is used to show normal posts.
Reddzine is an iPad-exclusive app, but surprisingly, it does not support landscape mode. You might find that easier to ignore than you think, as even in portrait mode, Reddzine is a real eye-candy. Pro-exclusive comments, however, might be a deal-breaker for quite a few users. You can download the app for free from the link provided below.