Relive: Sync Photos Between Android, iOS & Windows PC, View Them In A Timeline
Relive is a cross-platform photo aggregating and exploring app for Android, iOS and Windows-powered devices. Unless you're one of those few users who always carry their entire photo collection with them, Relive can prove to be a more than able companion, since it serves as an online photo aggregator as well as a reliable photo backup solution. The app aggregates photos from your smartphone, tablet, computer and even Facebook on its own cloud, and helps you easily keep in sync with all your various photo albums, regardless of the platform you're currently using. Apart from collecting your photos under on roof, Relive also lets you explore all the photo albums by year, week, month or source on your mobile device and/or a web browser.
Before proceeding any further, let us inform you that in order to use the Relive service, you must authorize it to access your Facebook account. The maximum cloud storage limit has not been specified, which presumably means that you can trust Relive to hold together your entire collection of photos from all the various platforms.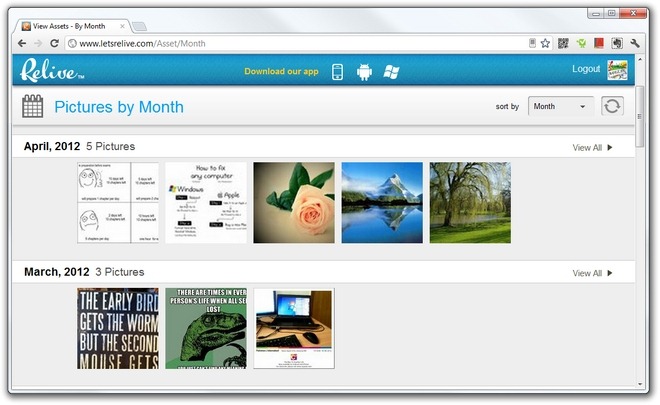 The desktop client of Relive is currently available for the Windows operating system only, and is more of a setup wizard rather than being a standalone photo-browsing application, since it only serves the purpose of ensuring that your photos from all associated devices (and Facebook) are in sync with the computer, and vice versa. Other than that, you can access the Relive service from virtually any desktop browser by just providing your Facebook credentials.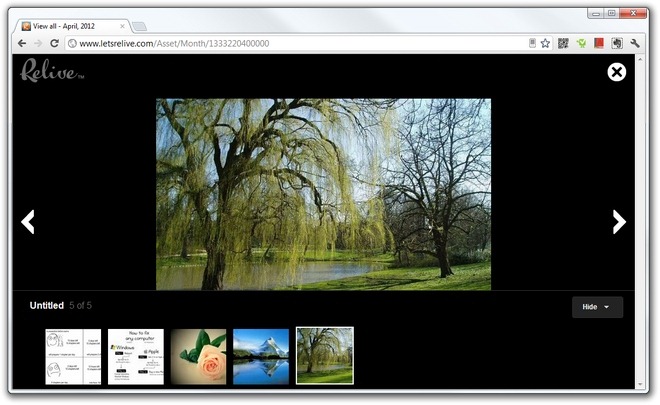 Once your photos from various devices are synced together, you can browse them in all aforementioned different ways. Under each supported category, your photos are displayed as various thumbnails on a horizontally scrollable slider.
Just like the desktop client, the mobile app of Relive also requires minimal configuration. In fact, once you authorize the mobile app to access your Facebook account, it begins aggregating images from the device itself as well as from the Relive cloud, and presents them on its homescreen. By default, the app's homescreen is set to display pictures by their relevant source device. However, by tapping All Pictures, you can easily browse your photos by day, week, month or year. The mobile app also lets you batch share photos with the desired email contacts. What's even better is that the mobile app lets you explore the entire photo collection even if your device is not connected to the internet. However, photos synced via Relive are only accessible from within the app's interface, and not via the gallery.
Provided you're simultaneously logged in to multiple devices with your Facebook ID, Relive automatically detects newly made changes to a photo album on the corresponding device, and updates the cloud content accordingly. So, there you have it; a neat and simple little method of keeping in sync with all your precious images scattered across various platforms. Although, in its current form, Relive is already quite a nifty tool, we'd love to see the app's developers take the concept even further, and add support for more cloud and social media sharing services. Needless to say, support for Mac and Linux-based computers will do Relive a world of good.
Relive is available for free for all supported platforms, and can be downloaded via the links provided below.
Download Relive for iPhone, iPad & iPod touch