Reminisce Offers Highly Customizable Gesture-Based App Switching On iOS
For a feature of iOS that has never been criticized too much, App Switcher has a lot of tweaks aimed at it in the Cydia store. Some of them, like MissionBoard, make additions to the existing app management tray in iOS, while others like Auxo offer a completely new way of switching between running apps. Some of these tweaks improve the App Switcher aesthetically, but usually this comes at the cost of making things more complicated, and having to remember several different gestures. Reminisce is a new Cydia release that might just have found the perfect way of letting users jump between different apps without any hassle, and without making your iPhone's screen cluttered. The tweak is not a complete App Switcher replacement by any means, as you can't even kill apps using it, but as a shortcut for switching between apps that have been recently opened, Reminisce is great. In addition to that, the tweak is highly customizable, and almost all areas of its interface can be altered to cater to your taste.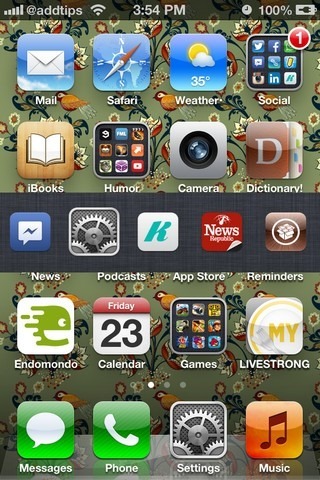 If you don't want to customize Reminisce in any way, the tweak is ready to be used immediately after it has been installed. Just swipe from the right edge of the screen to the left, and a tray slides out. In this tray, there are five icons belonging to the apps you have opened most recently. To launch an app from this tray, just keep dragging your finger across it until the desired icon is highlighted. Now you can let go and watch the app get launched.
This might make Reminisce sound like a really simple tweak but thanks to its menu in the Settings app, there are a lot of changes that can be made to that thin little tray. There are three sections in the Reminisce menu: Animations, Behavior, and Appearance. From the first of these, you can customize the way the tweak's tray slides out when the gesture is performed. The 'Behavior' section is more thorough, and can be used to alter the side from which the tray emerges. You can also bar specific apps from appearing in the tweak's list. Then there is the option to change the default gesture from horizontal to vertical. For customization in appearance, the Reminisce tray can be colorized, and you can go for dimming everything outside it in the background as well. App labels and icons can be changed, too.
Reminisce is a BigBoss tweak that costs $1.99. The price might seem a little steep, but the tweak has the potential of becoming a permanent fixture on your iDevice and for that, we recommend that you take it for a spin.