Safari For iOS 7 Offers Sleek New Tabs View, Gestures & Social Media Integration
Until recently, it looked like Mobile Safari was losing a significant number of users to Google Chrome on iPhone, but with the release of iOS 7, the scales might be tipped in the default browser's favor once again. Safari for iOS 7 incorporates almost everything that previously forced users to look for third-party web browsers. The new tabs view makes the previous iteration of Safari look like something from medieval times, the overall UI is great, and there is the new 'Shared Links' tab that takes the browser's social media integration to a whole new level.

Thanks to its iCloud Keychain integration, Safari lets users save and sync their personal information, passwords and credit card data in a rather secure manner. You also don't have to exit the browser every time there is a need to initiate a private browsing session.
Not much has changed in the Safari Settings menu, but there is a clear omission that is sure to please a lot of Safari users. Until iOS 6, you had to launch the Settings app whenever there was a need to enter private browsing mode. iOS 7 finally gets rid of this unintuitive method, and has added a button labeled 'Private' within the browser. Among the additions to this menu is the beefed up 'Passwords & AutoFill' menu. Users can associate their credit card information with Safari to facilitate with online purchases in the future. Similar options exist in for passwords and personal information, and in the future all this data will get synced across all your devices via iCloud.
Almost everything about Safari's interface is new. Of course, the UI elements follow the 'flat' theme that is prevalent everywhere in the update, but there are a lot more changes on offer, too. To create a new tab, hit the bottom-right icon and be amazed by the new tabs view. The pages are stacked on top of each other, and you can close any tab quickly by swiping it to the left. One thing that is a little inconvenient is that Safari no longer shows the number of tabs that are currently opened in the browser's lower-right corner.
The unibar in Safari for iOS 7 has been improved considerably. Whenever you start typing, the browser recommends a 'Top Hit', which is a keyword or website that you have frequently visited in the past. Each top hit is preloaded, so that you can see it almost immediately after tapping. The gestures added to the mix include a right swipe to go forward, and left swipe for going to pages that were open previously.
The sharing options are basically the same, albeit with a different look. The choices include SMS, email, Twitter and Facebook. Each page can also be bookmarked, added to the Home screen, saved to Reading List, or copied for future use.
A brand new feature in Safari is the 'Shared Links' tab. If you have connected your social networks with your device, Safari pulls all the posts that contain links shared by your contacts, and displays them for easy viewing. Each post has the display picture of the person who shared it, along with an icon specifying the source service.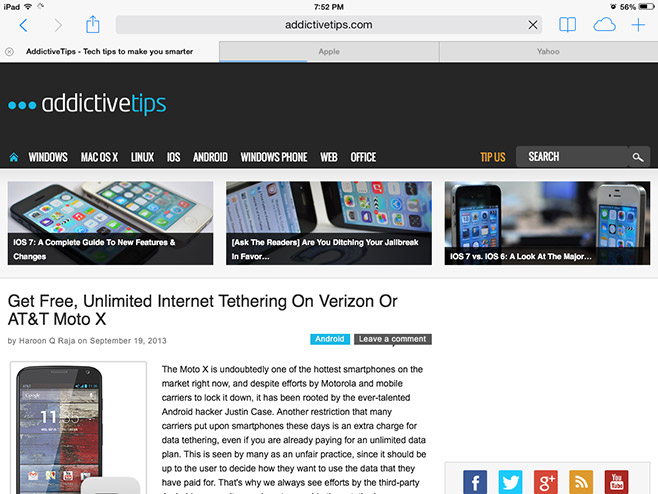 Overall, Safari has decidedly gotten better with iOS 7, and we are sure it'll make the default iOS browser even more popular with users than it currently is.
This post is one part of a compilation. For info on other major new features and changes introduced in the latest iteration of Apple's mobile OS, check out our complete iOS 7 guide.