Slow iPhone: Check How Slow Your Device Is
Apple slowing down iPhones has become common knowledge by now. iPhone owners are being advised to get a new battery for their older devices to fix the problem and Apple has discounted a new battery to $29 as part of its iPhone battery replacement program. If you have a slow iPhone, you can get a new battery for $29 all through 2018. Of course, some users are wondering how slow is too slow for an iPhone. Apple is replacing batteries regardless of a battery's life state but if you want to know how bad the problem is, SlowApple is a free web app that can tell you just how slow your iPhone is thanks to Apple's throttling 'feature'.
SlowApple is for the layman who doesn't have time to run or interpret the results of a proper bench marking tool like GeekBench.
Check Slow iPhone
Visit SlowApple on your iPhone. The app doesn't require it but we recommend you use Safari on your phone to run the test instead of any other browser that you routinely use. Also, you must turn Low Power Mode off. Open the Settings app and go to Batter>Low Power Mode. Turn the switch off, and then visit the app.
Tap the Go button to begin the test. It takes less than one minute to complete. The results shown below are for an iPhone 6 running iOS 11.21, and for an iPhone 6S running iOS 10.3.3.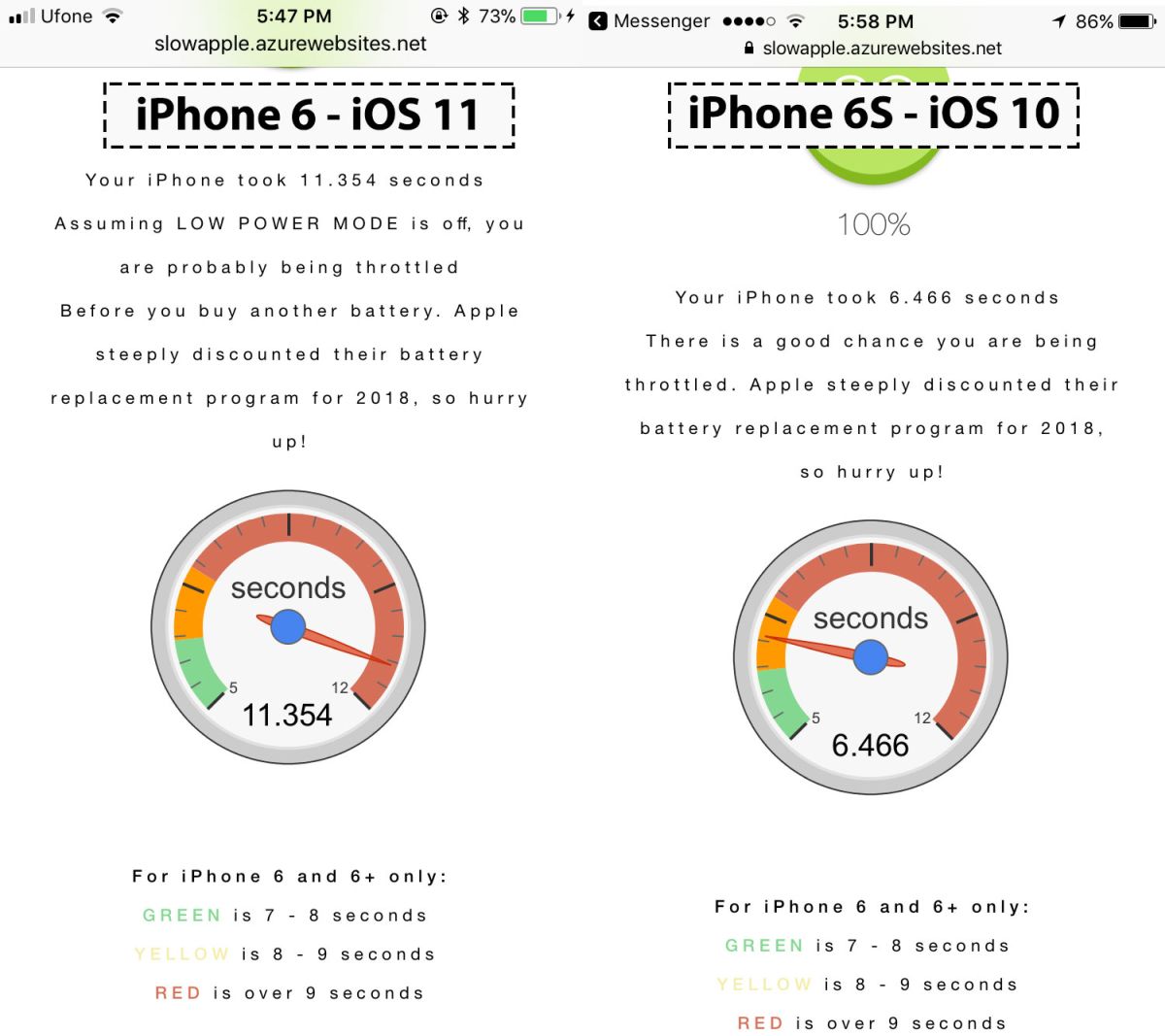 Reading The Results
The app tells you how long it took, in seconds, to complete a test. The longer it takes, the slower your iPhone is. For an iPhone 6, you can see that it can be as slow as 12 seconds as per the meter and our results were similar with the test taking 11.354 seconds to complete. That's almost 12 seconds.
The iPhone 6S fares better however it's running iOS 10.3.3 and not iOS 11.2.1 which is full of bugs and slows devices down even more. Neither of the two devices are in the 'safe' green zone which means they both need a new battery to return to their original or better performance states. If you were wondering whether or not the new battery would make a difference or just how slow your iPhone is, this is simple proof. If you want more details, consider using Geekbench.
We should mention that batteries don't wear out at the same pace for everyone so your results will not be the same as those for our test devices. In fact, we ran this test on another iPhone 6 running iOS 11.2.1 and it took 9.283 seconds to complete which is better than the 11.354 seconds on the original test device.