Snappn Is An iOS App Discovery Tool With Ratings Based On Reviews By Professionals
Since there's a staggeringly large number of apps available for iOS, app discovery tools are always coming up with novel ideas to help users find interesting and useful apps for their iDevices. Some of these offer app recommendations based on your current collection, while others ask your friends about their favorite apps or go through social media feeds to look for items that may be worth a download for you. Snappn brings yet another dimension to the field of app discovery for iOS. It gathers reviews from iTunes, blogs, news websites and industry publications to come up with an average rating for apps, making it great for assessing any app's popularity and finding out if its really as good as your friends have been telling you. As an added bonus, Snappn also features videos related to most apps, which can come handy if you can't really figure out a specific area of the app's usage.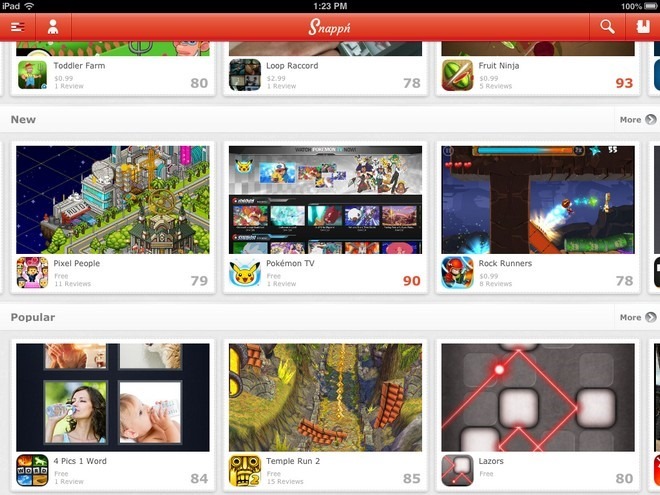 You'll be required to sign in using your Facebook, Twitter or email account before you can start contributing your own feedback about any app, but just about everything else is possible without registration. The main page is divided into sections like Recent, New, Popular and Recommended. A few apps can be viewed by swiping through each section horizontally, but to view a detailed list, tap the 'More' button. Each entry consists of the app's name, total review count and the overall rating Snappn has calculated for it based on these reviews.
Each app's Snappn page consists of developer screenshots, its App Store description, professional reviews and user comments. In the Screenshots tab, you'll occasionally find videos as well. These videos might be submitted by users, or gathered by Snappn from different blogs. Any website that rates apps can get featured in the Reviews section. The main app page displays only the numerical rating for apps, but you can read the detailed review from any source by tapping its entry.
Tap the stars to add your say about the app, or bookmark it for later by hitting the save button. These bookmarked apps go to the 'Saved Apps' tab. The price icon takes you to the app's official page in the App Store. Interesting discoveries can be shared through Facebook, Twitter or email using the arrow icon in the top bar.
Other than browsing the existing sections, you can also search for particular items. The search can be refined by using the filters available in the sidebar. The filters pertain to cost, age rating, release date and categories. To see your past activities within Snappn, head to the 'More' section and visit your profile.
Snappn is a great tool for finding out what the tech world is really saying about a particular app. This universal app is available for free, and can be download using the link below.