SwiftKey Comes To iOS In A Notes App That Syncs With Evernote
While Google is open to letting users replace even some core chunks of Android – the launcher, lock-screen, app switcher, phone app etc. – Apple is the complete opposite, believing its own rendition of these 'near'-core components to be simply the best for users, and assuming they do not even need to look for alternatives. For a long time, this has indeed remained true. From the year it was introduced up till a few months ago, the iOS' keyboard was widely accepted to be better than its Android and Windows Phone counterparts.
More recently, however, things have changed. Android's stock keyboard has matured significantly, and third-party alternatives from SwiftKey, Nuance, and GO have really started to pick up their game. iOS does auto-correction, yes, but these latest Android keyboard comes with better auto-prediction, support for different typing styles, and integration with Facebook, Twitter, and your email for quickly looking at the words you regularly type and their sequence of input, and a whole lot more!
Now after seeing so much success on Android, SwiftKey is interested in bringing their keyboard to iOS. They could not replace the stock keyboard throughout the OS, so they made their own notes app dubbed SwiftKey Note.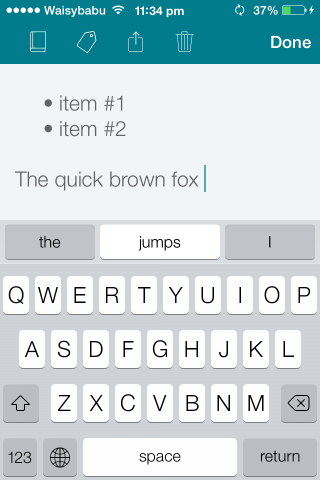 SwiftKey Note allows you to to create notes, give them tags for easier sorting and searching, put them into notebooks, and sync them with Evernote – with the important addition of being able to type with SwiftKey's advanced auto-prediction technology.
SwiftKey Note is bafflingly basic at the moment. You cannot add images to notes, sharing options are limited to messaging, email, and copying to clipboard, and as far as I can tell, you cannot even search your notes (though notebooks & tags are searchable). SwiftKey's keyboard itself is basically just the iOS 7 keyboard with an added row on top for predictions. Keep in mind that these predictions are off the mark at the start, but get better as you use the app more and more. You can give it a head start by giving it access to your Evernote notes, though.
Granted, this is just the first version of the app, but it still is a bit of a disappointment. As of this writing, SwiftKey Note is nothing but a basic, public tech demo of SwiftKey's excellent Android keyboard for iOS users, and a mere shadow of its excellent Android version.
Hopefully, just hopefully, someone will knock sense into Apple to open up iOS just a wee bit to allow users to make the switch from the default keyboard and browser to something of their own choice. Right now, we have to use jailbreak tweaks to be able to do that.
Be sure to let us know what you think of SwiftKey Note by leaving a comment in the comments section below.
Install SwiftKey Note from App Store