Take Screenshots Of Just A Portion Of Your iPhone/iPad Display [Jailbreak]
In the world of iPhone jailbreak, it seems that its raining a particular nature of tweaks these days, namely those that enhance your iOS screenshot experience. Taking screenshots isn't an activity that's restricted to a particular niche anyway; almost everyone has done it at some point or the other. Be it to help someone out by explaining something visually or bragging your internet speed/gaming achievements, chances are likely that at some point, you'd have used the easy screen capturing mechanism of the iPhone to your advantage. Tweaks that continue to surface from time to time either attempt to improve the overall experience, or just add new functionality. The one that we're looking at today is pretty much similar – it allows you to capture just a portion of your screen (as opposed to the entire display) and share it easily via multiple channels. This tweak has been christened Screenshot Clip, and you can find out all about it just past the jump.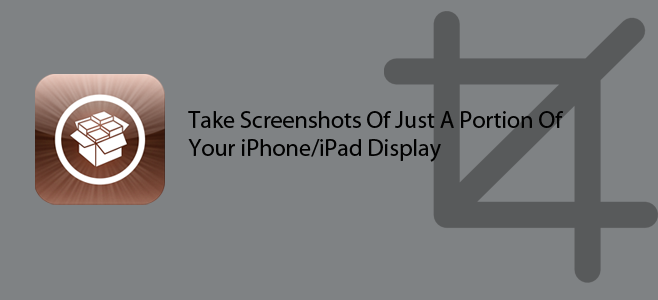 The tweak, which will set you back by a mere dollar, is being distributed through the ModMyi repository in Cydia, and works with pretty much all iOS devices running a jailbreak. Once installed, you'll first need to assign an Activator gesture to invoke Screenshot Clip (which implies that the tweak has a dependency on Activator).
This particular bit I appreciate the most, since this means that unlike some others, Screenshot Clip will not interfere with my normal screenshots. Once you invoke the tweak, the screen goes dim and you can use your finger to trace over the area that you want to capture in your screenshot (as shown above). For the captured image, a number of actions can then be performed by long-pressing the on-screen area, which include sending it to someone via AirDrop (iPhone 5s only), sharing through Messages, Mail, Twitter, Facebook etc, saving to Camera Roll, Assigning to a Contact, Copying and Opening in Other Apps.
As expected, the tweak also adds its own Settings pane to the native Settings app in iOS, where you can define the activation gesture and toggle shadows & borders for the captured areas.
Screenshot Clip is an interesting tweak, truth be told. The functionality is useful, but maybe not for everyone. Charging a dollar for something like this has potential for setting people off and making them pass on a well-executed tweak. On the other hand, it's a mere dollar, so it might not be that big a deal anyway. I for one don't mind acquiring this tweak – what will be your take on this?
Screenshot Clip is compatible with all iDevices running a jailbreak, and can be real handy on the large screen of an iPad.