Mobile Device Troubleshooter TeamViewer QuickSupport Comes To iOS & More Android Devices
TeamViewer is a very famous app for remotely controlling and troubleshooting PCs, with client apps available for Android and iOS platforms as well, allowing you to control your your computers from your phones, but not the other way round. In addition to that, the company has had its QuickSupport app available for Android for a while (initially only for Samsung devices) that allows you to remotely access, control or troubleshoot your device from a PC or another device running the TeamViewer client. The company has just brought QuickSupport to iOS and made the Android variant available for all devices. Being the closed system that it is, iOS won't give you complete control over the phone; however, you'll be able to grab screenshots from your phone, transfer files, copy anything to your phone's clipboard, send and receive messages from it, add email accounts, import iOS configuration profiles, and push WLAN settings to it. Apps can't be launched or controlled, and neither can any of the settings, but you can get a good look at the apps and processes that are running.
To use QuickSupport, you must have TeamViewer installed on your system. The free, non-commercial use version will work just fine. Launch QuickSupport on your iPhone and it will give you an ID number. You can enter it manually or email it to anyone by tapping the 'Send ID' button. Enter this key on the system you want to control your phone from and a request to connect will pop up on your device.
You are now connected. On your computer, you will see a dashboard showing you info on the vitals of your device, with a chat bar on the left. You can send messages to your device, nudge it, and copy anything to its clipboard from here.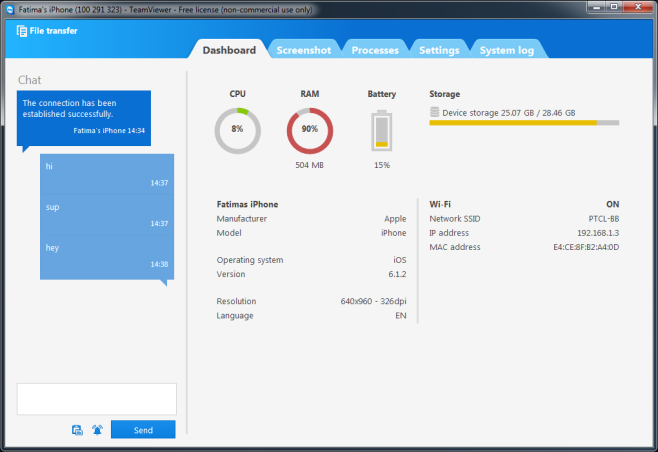 When you nudge your phone or send a message to it, it appears as a notification, as do requests for screenshots that you send from the 'Screenshot' tab. The screenshot is sent automatically to your system without you needing to send it over the app's own built-in chat feature. Files can only be received from your computer but cannot be sent to it from your phone. To send a file to your phone, tap 'File transfer' at the top and select the file you want to send.
The 'Settings' tab on the PC app is where you can add email accounts and WLAN networks to your phone. The 'Processes' tab shows you a list of apps that are currently running on your phone, and how long they were used.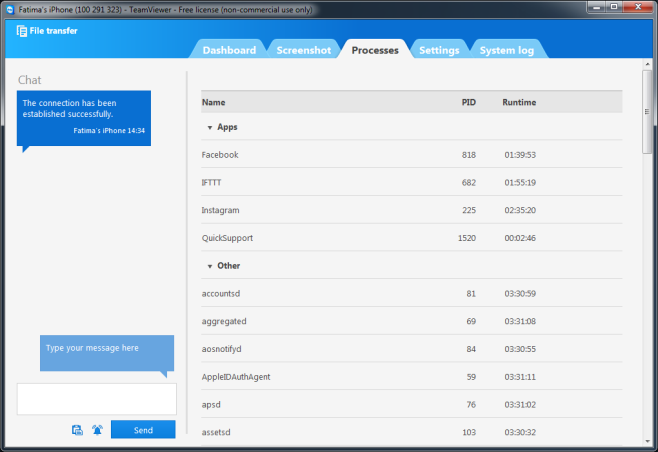 QuickSupport doesn't offer troubleshooting or support in the same sense as it does for PCs, Macs and Android devices, and it isn't possible to have such an app for iOS either, due to the constraints of the OS. That said, QuickSupport is quite unique and works very well within these constraints.
Install QuickSupport for Android