Udemy Brings Its Virtual Academy Of Video Courses To iPhone
Education is not a process that should end at a certain age. After every few years, your skills get a bit outdated, and if you really want to stay at the top of your game, constant improvement is needed. Thanks to the internet and portable connected devices, it has become really easy to keep learning new things. A lot of apps in the 'Education' category of App Store are meant to help children, but even if you are a university student or are just trying to enhance your skill set on your own, there are apps like iTunes U that can be of assistance. In recent years though, people have started moving from books to videos as one of their primary modes of education. This is why Udemy has gained considerable fame in the few years it has been around. The service offers online courses for programming, cooking, designing, photography and almost any subject you can think of. Udemy has just released its iPhone client, and now you can truly keep learning new things anytime and anywhere.
You need a Udemy account to subscribe to any course, and will need to sign in with it in the app before you can even view the list of available courses. Thankfully, you just need to enter your email ID to register for a new account. It is also possible to use Facebook for even quicker registration.
If you have used Udemy in the past, the courses you are subscribed to show up in the 'My Courses' section. Otherwise, you can just hit the 'Discover' button to go through the available topics. You can search for a particular keyword or browse the topics category-wise. Each course has a video demo, which can help you decide whether you want to register for it or not. Udemy offers both free and paid courses, and you have to make in-app purchases if you are interested in a paid course.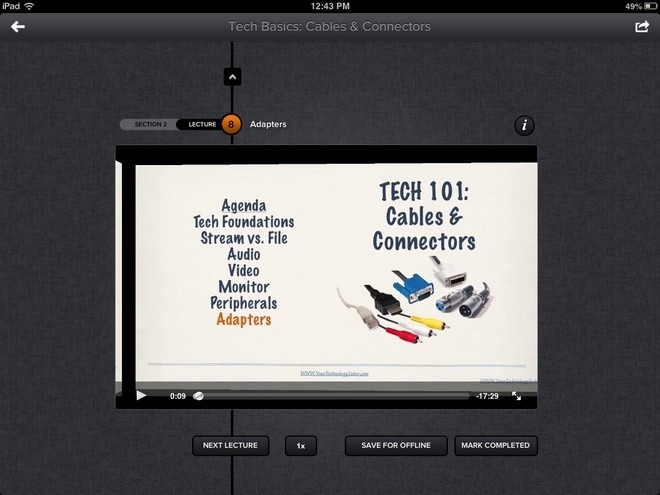 To let users get the most out of the app, Udemy offers the option to download lessons for offline viewing. Just launch a lecture, and hit the 'Save for Offline' button located below the player. The player has buttons for navigating between lessons, increasing playback speed, and marking a lecture as completed.
Udemy is a free and universal app. Your progress in all courses is synced across all your devices where you are logged into your account, which can be great for existing users of the services or those who own multiple iDevices. You can give the app a try by heading to the following link.