What Are iOS 6 Game Center Challenges & How Do You Send Them To Friends?
Although we've seen a flurry of popular mobile games going cross-platform this year, the iOS App Store as yet remains the richest gallery of smartphone games, while Game Center, owing to little or no competition, retains its crown as king of mobile gaming ecosystems. The iPod touch isn't the world's most popular handheld gaming device for nothing. With the release of Mountain Lion, Game Center expanded beyond iOS and onto OS X, adding cross-platform gaming to the mix, but Apple didn't stop there. Out of the many new features brought on by iOS 6, there is one that encourages users to be more social on Game Center. Labeled 'Challenges', this feature allows you to invite your friends to beat your score or unlock a certain achievement in a game of choice. The process, though fairly simple, has the tendency to confuse novice users. Hence, a brief guide is in order.

A few things to note before we get to creating Challenges:
Game Center allows you to send Challenges to any of your friends, but they will only be able to receive these if they have iOS 6 installed.
You can challenge your friends to beat or unlock a particular score (Leaderboards) or achievement (Achievements) respectively, in any game currently installed on your device.
Challenges can be sent to just one friend or several friends in bulk.
You can send Leaderboard challenges regardless of whether your friends already have higher scores or not. The same is not true for Achievements, of course.
For games linked to your Game Center account, but uninstalled from your device, you can only send Challenges for Achievements.
If you receive a challenge for a game that isn't installed on your device, the 'Play' option on the Challenge screen will simply be replaced by the option to install the app from the App Store.
You can only beat challenges one at a time. If you pick one challenge and manage to beat two in the process, only the picked challenge will be removed from your Challenges tab.
To challenge a particular friend, navigate to your friend's Game Center profile through the Friends tab and select a game in which you want to challenge them.
In the game Info screen that follows, you should see your Leaderboard scores and Achievements compared with your friend. Tapping a Leaderboard score or an unlocked Achievement of yours that your friend is yet to bag and challenge them to unlock it. Like in Game Center friend requests, you can add a short message to each challenge before sending it.
Challenging a group of friends is only slightly different. If you pick a Leaderboard score from the following screen, you should see a list of all your friends scores. Selecting a friend's score here will allow you to send your current high score as a challenge to him/her, whereas tapping your own score will take you a screen showing a checklist of all your Game Center friends separated into those who own the game and those who don't, allowing you to send a challenge to several friends at once. Selecting any achievement here will do the same.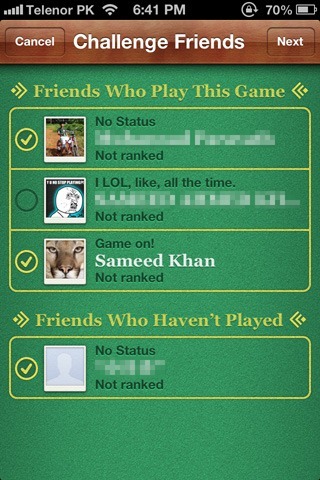 Note that the first method doesn't apply to the iPad variant of Game Center, as it shows all your friends' scores regardless of whether you select a game from within a particular friend's profile or from within the Games tab.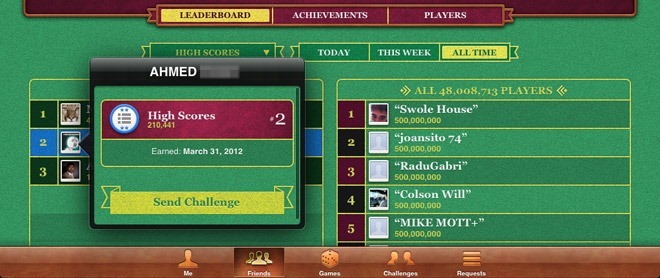 Game Center challenges are received as push notifications and stored within the Challenges tab till they're beaten or declined. Notifications are set to banners by default. Tapping a banner notification when it appears take you directly to the game in which you've been challenged.
Select a challenge from within the Challenge tab, and you'll be provided with the options to take a swing at it or decline.
You can also decline challenges without having leaving the the Challenges screen. Simply swipe across a challenge and you should see the Decline option appear over it.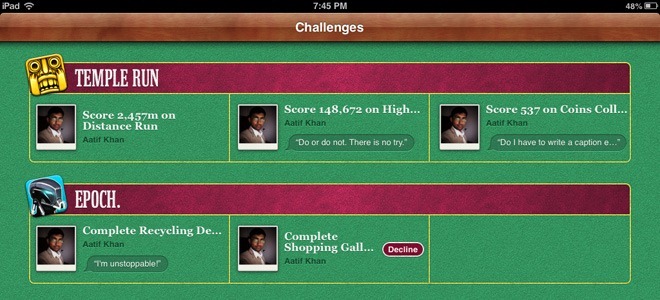 If you manage to beat a challenge, apart from the sense of high accomplishment that accompanies the act of putting your friend to shame, you receive a banner notification from Game Center. The same notification is sent to your friend as well. It would've been so much more satisfying if Game Center allowed sending a custom message with said notification ("In your face!").
Needless to say, Challenges are an excellent addition to the Game Center. Users, myself included, have been sharing and comparing scores with their friends for years. Not only do Game Center Challenges make the process more convenient, they actually improve upon it, ensuring that you don't have those long arguments with your friends that end with you telling them there Fruit Ninja high score screenshot is Photoshopped.
Now, excuse me while I beat some of Aatif's other pitiful Temple Run high scores.