Zite Gets Revamped For iOS 6 With New UI & Better Topic Discovery
Almost all news apps on iOS these days allow users to personalize their feeds to some extent, but the reason behind the popularity of Zite is the perfect blend of customizability and efficiency. You have to create your own feeds in Zite, but the app helps its users through every step of configuration and is intelligent enough to learn about your preferences with the passage of time. The only area that could have used some improvements was the app's interface, and that is exactly what has been completely overhauled in the latest update of Zite. Finding new and interesting topics is easier too, thanks to the revamped 'Explore' page that makes use of your current choices and social media. Zite has been optimized for iPhone 5 and unfortunately, only iOS 6 users can take advantage of the new update.
As always, it is up to the users to decide whether they want to sign up for Zite or not, since the app won't withhold any features even if you are not registered. The only difference would be that the sources and settings of unregistered users wouldn't be saved on Zite's servers, and those transferring to another device or using multiple devices will have to register in order to make sure their sources and settings are kept in sync across all devices.
For all new users, there are graphical instructions to familiarize them with each aspect of the app. Configuring the app requires you to go to the 'Explore' section. If you want Zite to get up close and personal with you, there are options to associate your Twitter, Facebook, Pocket and Google Reader accounts with the service. You can also view recommendations from Zite based on topic popularity. To cap it all off, the search bar supports auto-suggestions. After you are done with the configuration, it is possible to go to 'Explore' again by hitting the search icon in the top-right corner.
Thanks to its latest update, Zite now supports some useful gestures. You can go back one step from anywhere with a simple rightwards swipe. A universally accessible 'Quicklist' houses all the topics present in your Zite feed. This area can also be used to add or remove certain topics.
While going through the feeds, you can jump to related topics by hitting the tag below the headline. The new topic can be added to your Quicklist if you hit the heart icon in the top bar. If you are using Zite on the iPad, there are a couple of new gestures that let you rate stories in the blink of an eye. Simply swipe upwards on the article to vote-up and if you don't like the story, a downwards swipe will suffice to down-vote it.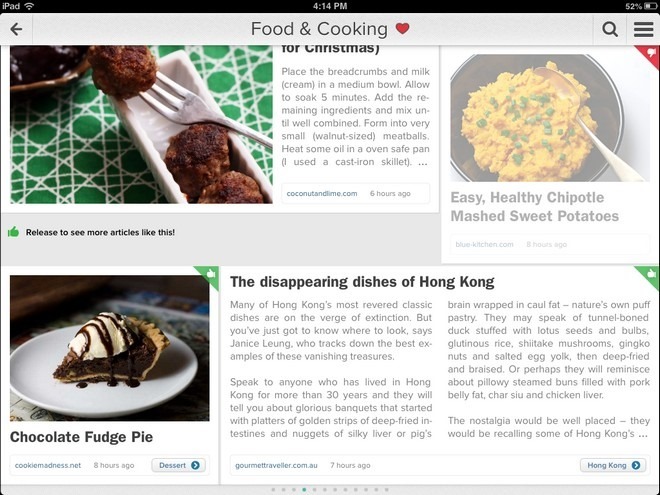 Zite is a free, universal app and its latest update has made it iOS 6-exclusive. The new interface is really sleek, and so are the discovery features. You can check it out by hitting the link below.