How to access photo files from an iPhone on macOS
If you own an iPhone and a Mac, you will be able to manage and interact with your phone far more easily than if you had a Windows PC. This holds true in almost all cases except when you need to access photos from your iPhone. The default method for accessing, viewing, or copying photos from an iPhone is to use the built-in Photos app. This app is an amazing photo manager but it doesn't let you access photo files from an iPhone directly. The photos stay in the app's 'library'. If you need to access photo files from an iPhone on macOS, you've got a slightly complicated process that you have to go through.
Access photo files from iPhone
Connect your iPhone to your Mac, and open the Photos app. Allow it to scan for photos and videos on your iPhone. If you haven't set the Photos app to automatically import files, it will only show you the photos and videos it has found. Select the photos you want to save, and click the 'Import Selected' button at the top right. This will add the photos to the Photos app library. Now you need to get them out of there and move them to a folder.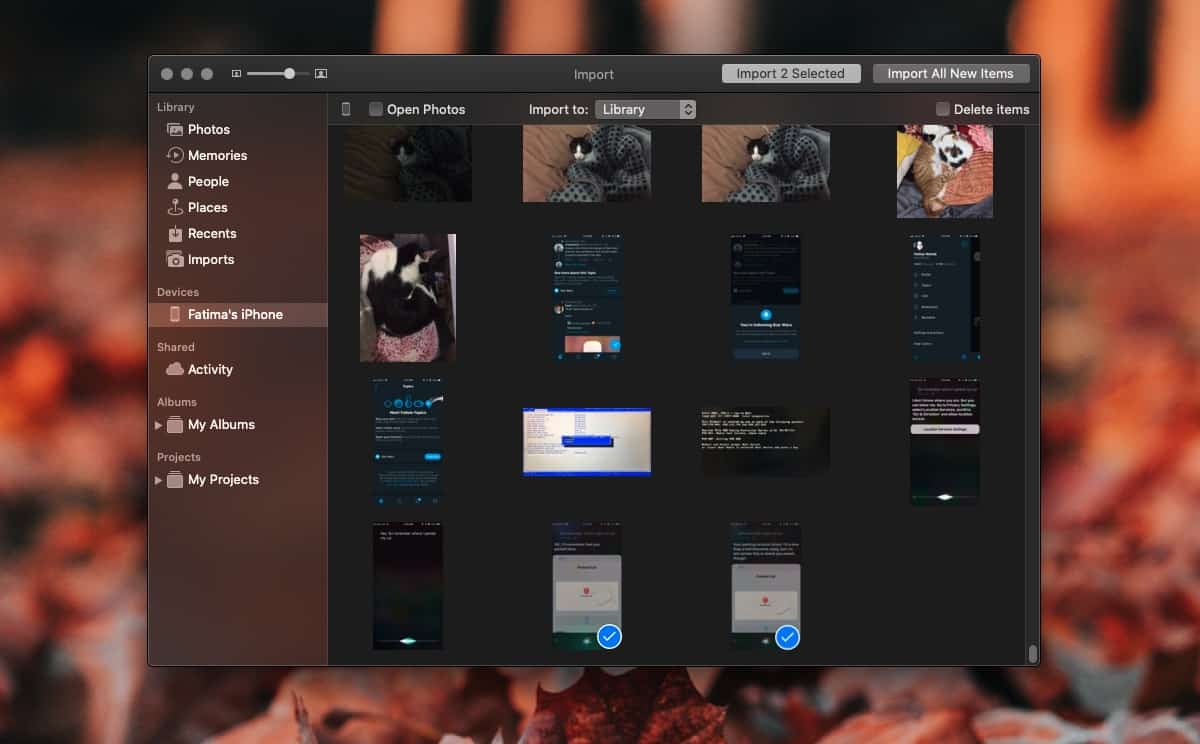 Return to the Photos app and select the newly imported photos. On the menu bar, go to File>Export>Export Photos.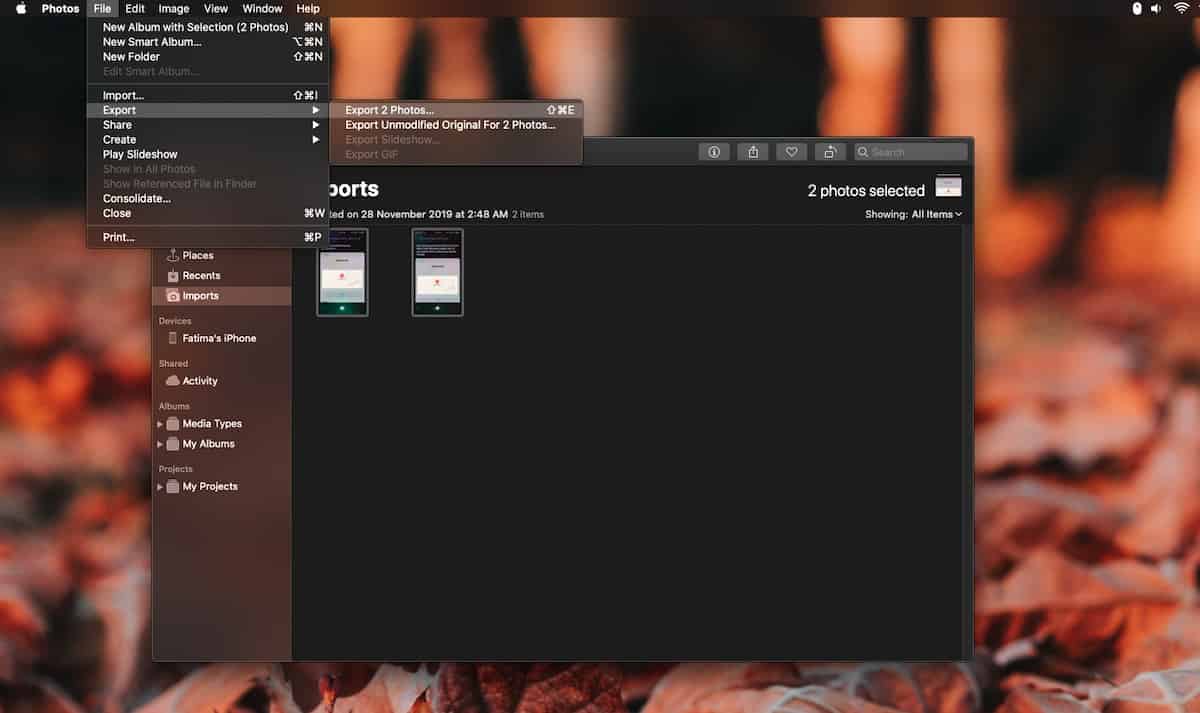 Select the format you'd like to export them to, and what information you'd like to include. You can choose a different file name, or just use the same one that the photo had when it was saved on your iPhone. Click Export, and you will be asked to pick where the files are saved.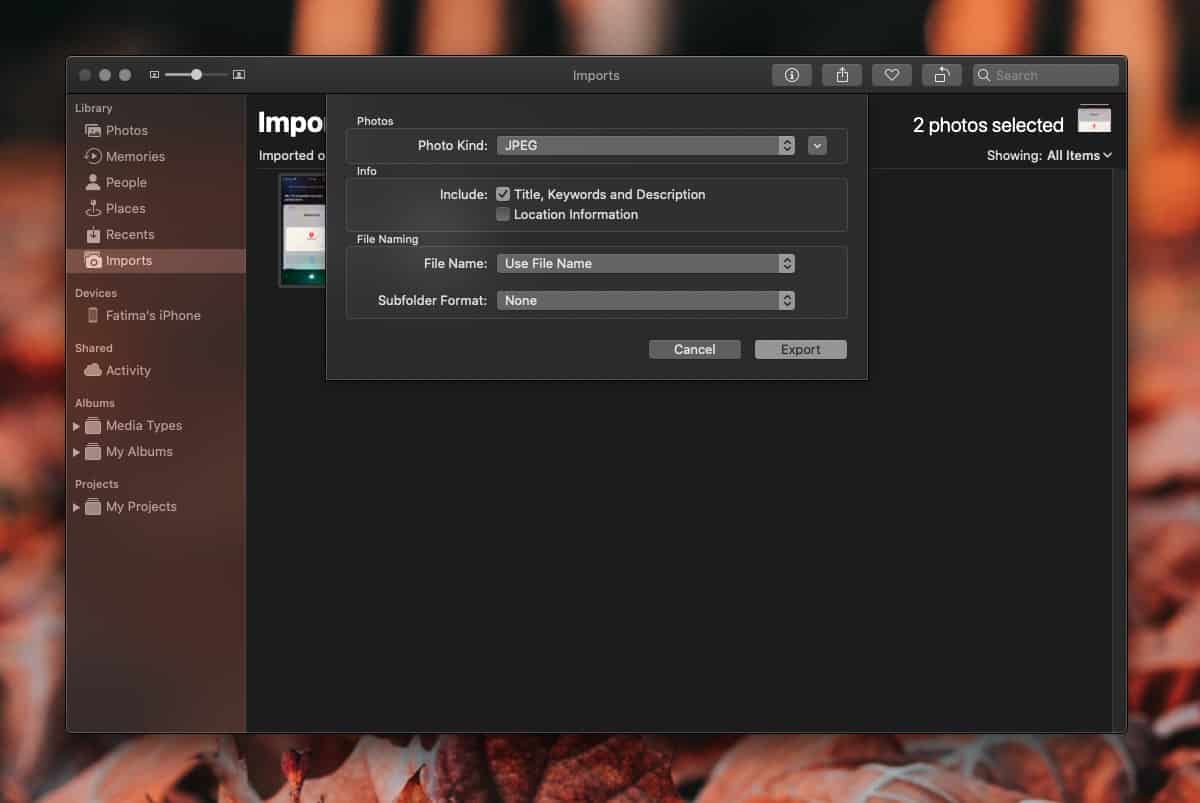 The exported files will be what you can use. They will not be a part of the Photos app's library.
If you only imported the photos into the Photos app so you could export them later, make sure you remove them from the app's library or they will eat up space on your disk. You can select them in the Photos app, and delete them from the context menu. Deleted photos are moved to 'Recently deleted' inside the Photos app so make sure you purge them from there as well. They will be removed after 30 days by default so even if you do not clean this folder up, Photos will take care of it.
On Windows 10, accessing photo files is so much easier. You can connect your iPhone, and access the camera roll from File Explorer. There are no other apps involved.