Tag Folders: Add Tags & Spotlight Comments To Folders For Better Search [Mac]
Mac OS X lets you add Spotlight comments to any file or folder you want. These comments help you find files later on; when you type a filename or a search query in Spotlight, the comments are also indexed and displayed with the results, helping you identify files. A much simpler approach to finding files would be to tag them, which, unfortunately, isn't supported. Tag Folders is a free, open-source Mac app that adds this very feature. The app lets you add tags to all files and folders on your system,  allowing you to create a special folder anywhere on your Mac. All sub-folders subsequently added to this folder are tags, and files added to them are associated with these tags. The tags are searchable in Spotlight in the standard comma- or space-separated formats.
Setting Tag Folders up takes a bit longer than your average app, as it will install several additional components that prompt you to add tags when you create a new folder and monitor folders for newly-added files. Launch Tag Folders and select where you would like to create this folder.

Once your initial folders have been set up, the app will install an additional component called Tag Prompter. Add the folders you want to monitor for new files.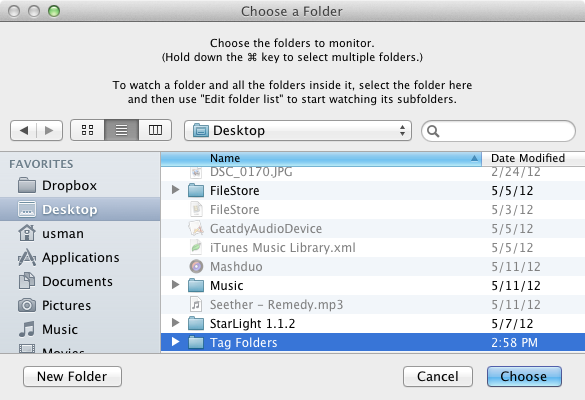 Once the setup is complete, open the newly created Tag Folder in Finder and click the Tag Folder icon to launch the folder creation dialog.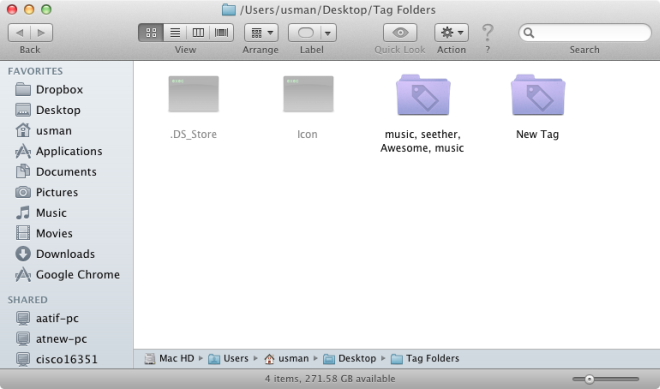 Enter the tags for the folder and add Spotlight comments. You can choose to nest a folder and it's tags within an existing folder in Tag Folder.

You may create new folders any time by visiting the app's predefined directory. Once folders have been created, drag & drop items to them. These folders aren't real directories; they simply keep track of which files were added to which folder. Hence, these folders, in effect, represent tags only. You will still access your files from their original locations; however, adding them to these tag folders will make it easier to search for them. To edit settings like which folder to watch or the format for comments, launch the app and choose an action from those listed in the window.

Although the app's home page doesn't say it is compatible in OS X 10.7, it worked perfectly well during our testing. The app, in effect, is just a quick tagging mechanism that saves you from having to type tags in over and over.