Amoneon: Add Neon Brush Strokes, Shapes & Text To Images [Mac]
Slightly complicated but worth figuring out nonetheless, Amoneon is a free Mac app that lets you edit your pictures. The major feature that the apps boasts of, is its neon brush that you can use to paint over an image. It has a whole host of additional great features other than the neon brush; you can add shapes, solid color and gradient overlays, resize, crop, manage the hue, saturation, contrast and brightness of an image, and add text. The effects are brilliant, and in addition to the neon light brush, Amoneon also lets you add neon spirographs to an image. The dimensions of shapes that you add to an image can be customized, as well as the color and opacity. If used the right way, the app and it's gradient overlay effects act as an excellent way of adding colorized effects to photos. The images bear no watermark; however, the app saves to its own format that you have to append an image format extension to.
Amoneon doesn't support drag & drop, so you will need to add images from File > Open, or the open button at the top right next to the Save button. The top toolbar houses these two buttons in addition to the undo and redo commands. Along the bottom of the app's window, there are options for accessing Tools, Effects, Palette, Options and History. Click any of these options, and an additional toolbar will open at the bottom or a small option window will open in the app's window.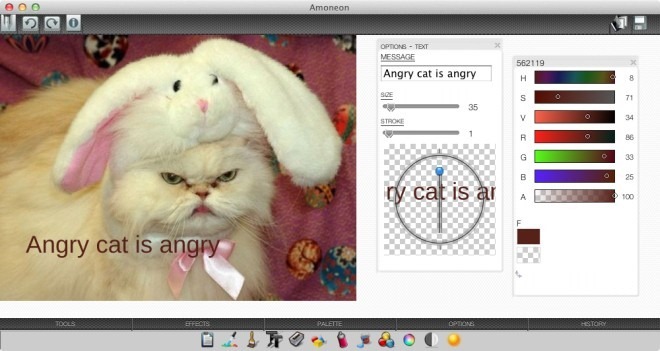 Select the Tools option; the toolbar that appears at the bottom lets you add brush strokes, text, manage the hue, saturation, contrast, brightness, add solid color or gradient overlays and pick colors from within the image. When you select a brush or shape, the window that opens allows you to manage the shape's dimensions. To edit the colors of a shape or brush, click Palette and edit the colors. The radial control with the knob allows you to chose the direction of an image or a gradient. The vertical line with the knob allows you to increase or decrease the opacity.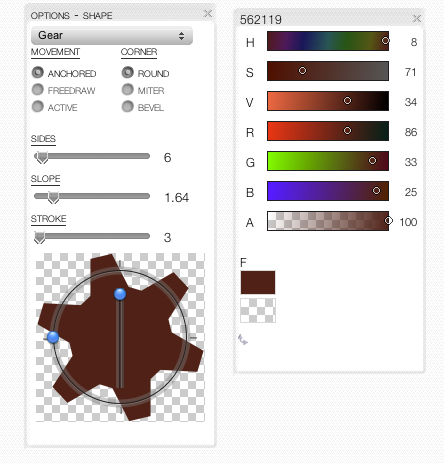 The Effects options allows you to crop, resize and rotate an image.  An image is resized as a percentage of the original.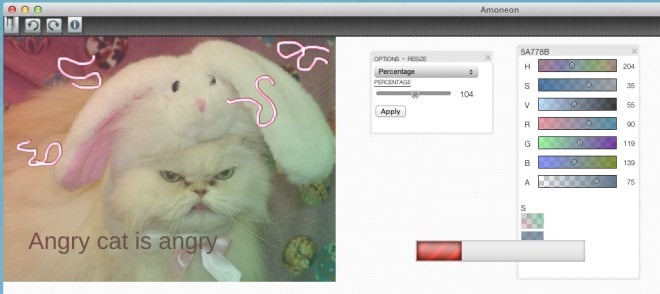 Amoneon isn't your traditional drawing tool; you can use it to create original images depending on how creative you are and your prowess with the neon paint brush. It doesn't have your traditional effects, either, as it is more like an open field for anyone with even a small creative stint. Playing with the app alone is super fun, and you are likely to end up being in love with what you've created.
Get Amoneon From Mac App Store