Any Video Converter Lite: Free Audio & Video Format Converter For Mac
Versatile video converters are hard to find, as the majority of freely available format conversion apps allow you to convert videos to common formats only. When it comes to the Mac OS X platform, the number of free options diminishes even further. Any Video Converter Lite is a free Mac app that supports conversion to a large number of audio and video formats. The app's built in media player is somewhat buggy, but it converts files without error. While format conversion is the main feature, the app also has a side feature to download videos from YouTube in Flash format. It installs a Video Downloader app, and downloads files directly from YouTube when you enter a video's URL.
To convert a media file, drag & drop it onto the app window, or click the Add Files button at the top. The app supports bulk/batch conversion. Once media is added, the app analyzes the different files, their formats, lengths and sizes.

The app's interface is divided into two sections, with the top pane listing all the files that have been added for conversion, and the bottom pane has the media player and selectors for format conversion.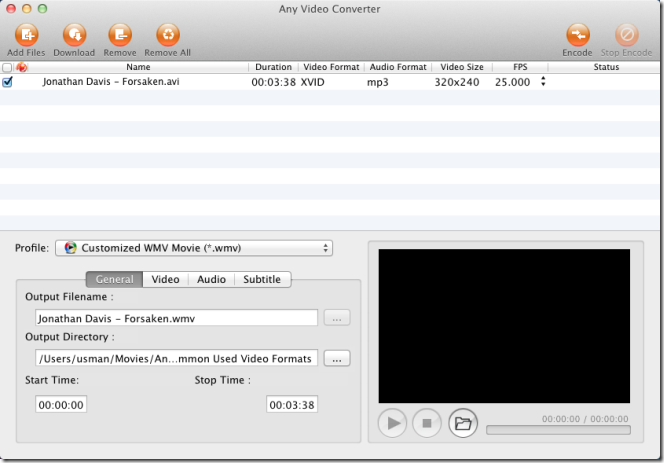 Once the app has analyzed the file(s) you've added, select the desired conversion format from the Profile dropdown. Formats are grouped as common video and audio categories, making it easier to pick out the right one if you are converting files to play on another device/platform.

Once you've set all conversion parameters, click the Encode button at the top of the app window, and wait for Any Video Converter Lite to finish conversion. Once conversion is complete, look for the file in the path you specified. By default, the app saves files to the Movies/Music folder.
To download a video from YouTube using this app, click the Download button next to the Add Files button. A new window will pop-up, copy and paste the URL of one or more YouTube videos and click Download.
Get Any Video Converter From Mac App Store