Auto Delete Archives/Files After Extraction Or Compression In Mac [Tip]
Desktops can be (and are) among the most cluttered places on your Mac, so much so that apps like Clean My Desktop exist to help you manage it. The thing is, your desktop isn't the only biggest repository of junk on your Mac; the Downloads folder is often brimming with files that you've downloaded, used once and never needed again. Of these files, zipped files and extracted folders are one type. Even if you move the extracted files to another location, the archive remains taking up disk space in the original location. If you use the default archiving and extraction utility i.e. the Unarchiver, you can set it to automatically delete the archive folder once it's extracted the files. Similarly, you can set the utility to delete files once they've been compressed. This tip shows you how.
Open your Mac disk and go to System/Library/CoreServices. Don't confuse this Library folder with the one in your User folder, which is hidden by default. This Library folder is visible and can easily be accessed. In the CoreServices Folder, find Unarchiver and launch it. It will open like all other apps. Open its Preferences and from the After Expanding dropdown, select the delete archive option. The will automatically delete file archives once they've been extracted.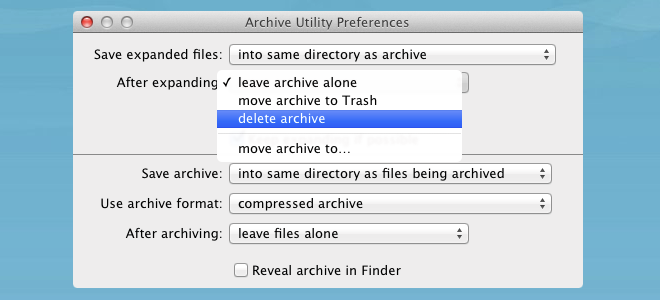 To delete files once they've been compressed, open the After archiving dropdown and select Delete Files Archived. Remember to only enable this if you are 100% sure you will keep the archive safe, or you won't ever need your original files again once you've compressed them. Alternatively, you can choose to have the app move the files to the Trash by select move files to Trash from this same menu. The latter might be a better option, as files can be restored from Trash.