Backdrop: Take Screenshots With Clean Desktop & Run Pixel Test [Mac]
We recently covered Screenshot Helper, a Mac app that assists you in taking screenshots. Backdrop is a similar app that lets you choose any one color as the desktop background or any image. The image/color is superimposed on your desktop such that it hides all the icons. Additionally, the app also allows you to run a pixel test on your screen to identify dead/stuck pixels. For a user defined interval, the app fills the entire screen with red, green, blue, white and black colors are off. You can choose to keep the icons on your desktop and use the app to put a cleaner wallpaper on the desktop. The app can hide icons across multiple monitors by applying the background color or image you've chosen over all displays.
When the application is launched, it hides all the icons on the desktop by applying a white background color. You can change default settings from Preferences, which can be accessed from application's menu. You can select the image position, i.e., Centered, Stretched to fill the entire screen or tiled. Understandably, these options are only available for images and not for color fills. To select a color, use the Display dropdown menu to select one of the predefined colors or select Color only and click the Color box to select any color of your choice. To set a picture as the background, select one of the mentioned display options, and then click the Browse button at the bottom to select an image. If you have multiple displays, and would like all the icons covered, select the number of attached display monitors from the Multiple Displays dropdown menu.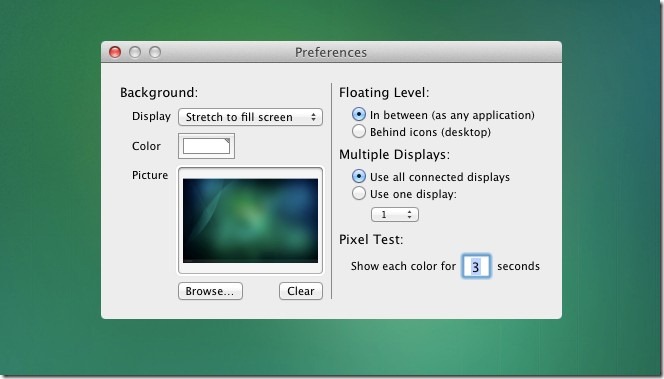 To run a pixel test, you will first have to define how long a color should be visible on your screen before it transitions to the next one. Pick the interval in seconds from the app's Preferences under Pixel Test. Now, go to the File menu and select Run Pixel Test or use the Command + R shortcut.

Compared to Screenshot helper, this app lets you cover icons across multiple displays. It doesn't hide the menu bar or the Dock, but if you're more focused on the multiple display support, this is the app to go with.