BaiBoard: Whiteboard For Collaborating With Other Macs On Your Network
There are plenty of drawing tools available for Mac, and many of them are feature rich. However, what you won't find as easily as a drawing tool is a collaboration board. BaiBoard is a free whiteboard app for Mac that you can use to collaborate with anyone in your network. The app isn't something that you'd expect to create art with, since the color choice is limited, but as a mind mapping tool, this is fairly good. The app lets multiple users draw at the same time and share files with each other. Your drawings are saved to the app's cloud, and each drawing is distinguishable through its unique board number, and can be saved to your local system in PDF format.
To collaborate on this app, it must be installed on all Macs that want to use it, and they must be on the same Wi-Fi network. When you first launch the app, you will be asked to either create a new board or join an existing one. To join an existing board, you will need to enter the unique board number. To create a board, you will have to enter a passcode that other users who want to access your board will have to enter on their end.
If you create a board, and want to share the board number with someone, click the link button at the top right of the app's window and copy either the URL or the number, and share it with whoever you want to collaborate with.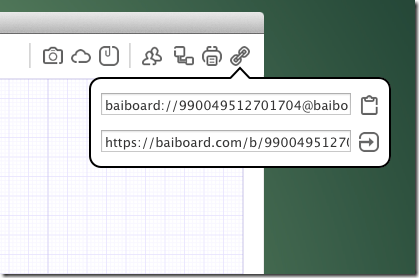 The layout is simple, with all tools located above a broad canvas. There is a selector tool, a line tool, a pen tool, 6 colors to choose from, a rectangle and a circle tool. You can enter callouts, or add images by dragging and dropping them onto the app window. The following screenshot is my original art work! (Editor's Note: I'm considering a new position for our creative section – interested?)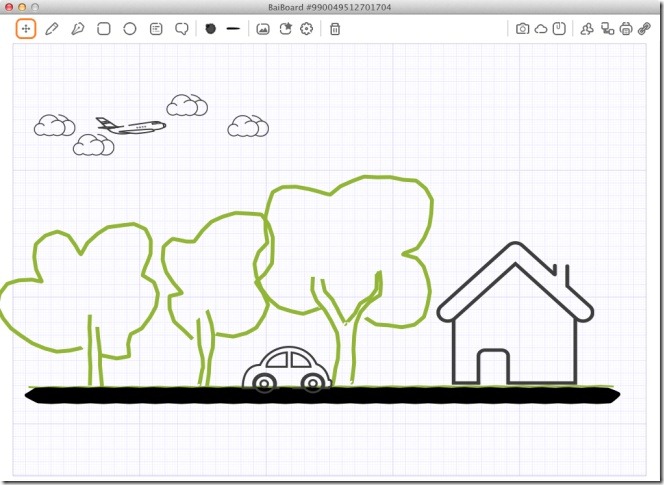 The app comes with a few pre-installed pictures that you can add to your drawing by clicking the button next to the cog wheel. The cog wheel itself opens Settings that allow you to add a tail or arrowhead to lines, to enable rounded corner rectangles, change the font for any text you enter, and change the direction of the callout.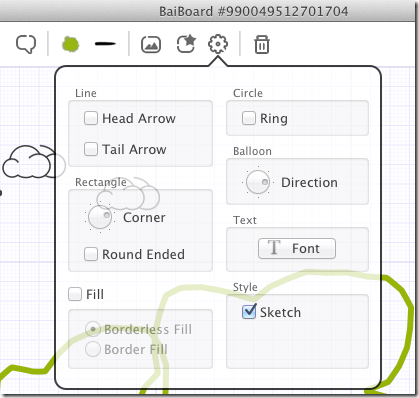 To save your drawing as a PDF, click the button to the left of the Print button, enter a name, and select a location to save it to.
Get BaiBoard From Mac App Store