Smutefy: Spotify Advertisement Blocker [Mac]
Spotify is a popular music service where you can listen to the music for free but hey, with free version comes advertisement which is run after every two or three song tracks. For some people it is fine because they get to listen to the music for free but if you really feel irritated, Smutefy is an ultimate application wich will help. It is developed to block Spotify ads while listening to your favorite music. It is a very lightweight system tray application that runs in the background and automatically detects and blocks Spotify ads. Search the good looking Smutefy icon in your Application folder to launch it. Once launched, it sits to right side of your menu bar. As it detects an advertisement, it changes the color and mutes the system sound. As soon as the advertisement finishes, it unmutes the system sound and lets you re-enjoy the music.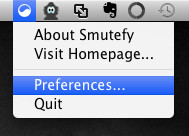 You can choose to automatically check for update daily, weekly, or monthly from the Preferences.

There is, however, one small catch, before running it you will need both 'Growl' and 'Soundflower'. The former is used for notification, while the latter is used to forward audio from one application to another.