Blotter: View iCal To-Dos, Events & Week Schedule On Desktop [Mac]
We recently reviewed a paid app, Mindful, that can put the current day's iCal events and reminders on your desktop in the form of hourly lines. The app was a convenient way to view the current day's schedule, but it was limited to displaying events for a single day only. Blotter is a Mac app worth $9.99 that puts an entire week's calendar on your desktop, along with the current day's to-do list and the date. The app allows you to choose which calendars you want to view events from, add events and reminders to iCal directly from the app via keyboard shortcuts, and choose from different layouts and positions to dock the app.
Note: As mentioned above, Blotter is a paid Mac OS X app that will make your wallet lighter by $9.99. We are giving away 10 licenses for this app to our readers, details for which can be found at the end of this post.
The app can be set to fill your entire screen, or to occupy a column on either side, depending on how you want to view it. You can choose to view an entire week's calendar, or just the current day's appointments and reminders.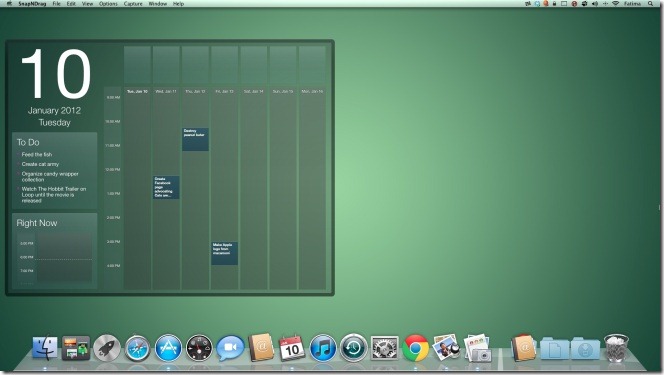 Launch the app, and from the General tab in preferences, you can enable startup at login, choose to show the next seven days from the current day on your desktop as opposed to the current week view, hide the app's icon from the menu bar, and most importantly, set keyboard shortcuts for adding events and tasks to iCal that will appear automatically on your desktop via this app.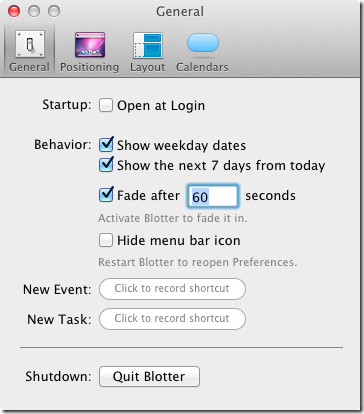 To choose where the calendar view will appear on your screen, go to the Positioning tab and chose a calendar size from the dropdown. Drag the window in the preview pane below to dock it to one of nine quadrants of the grid. From the Layout tab, choose what information the app should show by picking a calendar layout.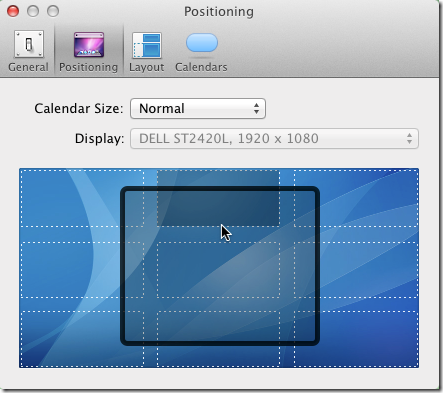 There are four types of layouts to choose from; Normal (Current day's reminders, events happening now and a week's calendar), To Do (view the day's reminders and events), Right Now (view current events), and Custom, where you can choose your own layout.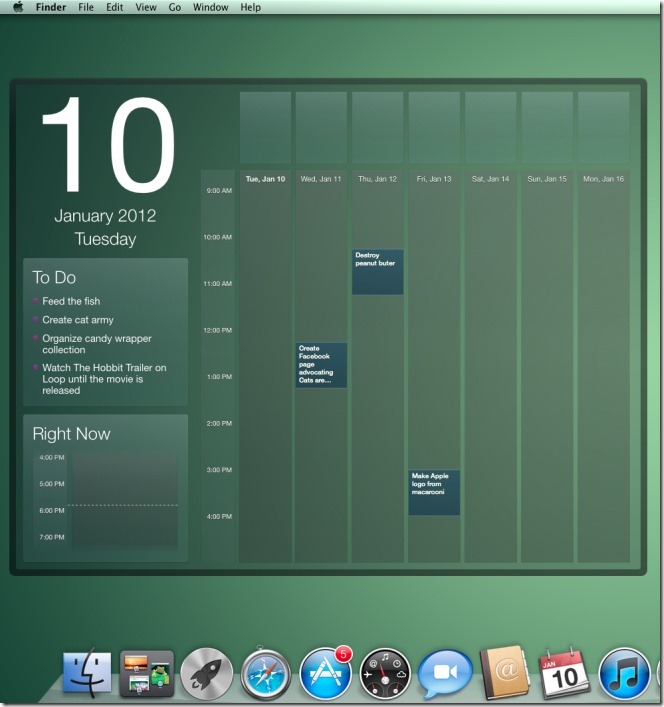 To manage which calendars the app shows events and reminders from, go to the Calendars tab, select the Selected Calendars option, and check the ones listed below to sync them with the app.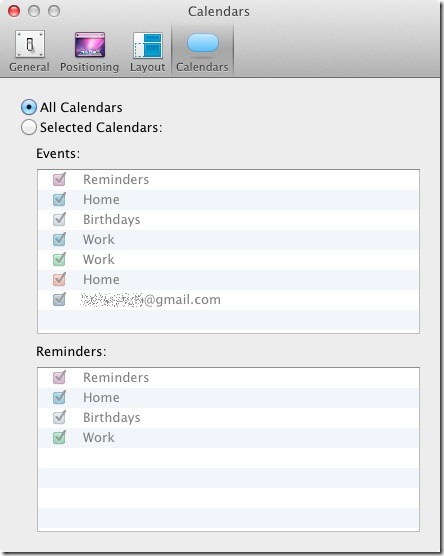 In addition to adding an entire week's view to your desktop, this app also negates the need to change colors accordingly with your desktop background, since it is transparent, and pops out from most backgrounds. Not only are your events and reminders easily viewable, but so is the current date, which means you won't have to visit the Dashboard to check what date it is.
Get Blotter From Mac App Store
Giveaway
We are giving away 10 full licenses to our readers. The giveaway will only last for 48 hours. Participation in the giveaway is simple. You need to either follow us at @addtips and tweet the giveway (leave the link of the tweet in comments below), or leave a comment on our Facebook page. We will pick out 10 winners randomly!
Update: This giveaway is closed. Winners shall be contacted soon with their license information.
Update 2: License codes have been sent to the winners!