Bowtie Is iTunes Controller With Themes And Last.fm Support
Although we have covered many iTunes controller for Mac, including, TunesArt, Musica, and MyTunesController, we still feel a room for one which offers novel and interesting features while providing sleek user interface. Today we have stumbled across Bowtie, which greatly differs from the previously covered iTunes controllers. First, you can design appealing UI themes based on HTML 5 and CSS, and second, being the fact that it offers seamless support for other iDevices – iPhone and iPod.
Apart from obvious features of an iTunes controller, such as, playback controls, album art detection, and direct track rating, it integrates last.fm, so you can submit your favorite songs directly to last.fm. Other prominent features include a slew of hotkey combinations to control different iTunes playback and playlist specific functions, such as, jump between tracks, increase/decrease and mute volume, along with love and ban Last.fm listed track, just to name a few.
To begin, unzip the downloaded package and launch the application. You will see it residing in the menu bar. Before launching iTunes, bring up preferences (from menu bar icon) to choose / edit provided themes and change default hotkey combinations to avoid any conflicts. Under Themes, you will find 3 themes in total with search bar to download new themes.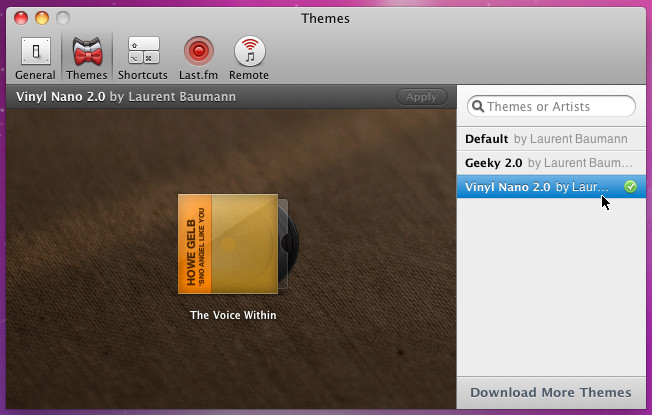 Now head over to Shortcuts window and change default hotkey combinations for playback, playlist and last.fm related shortcut keys.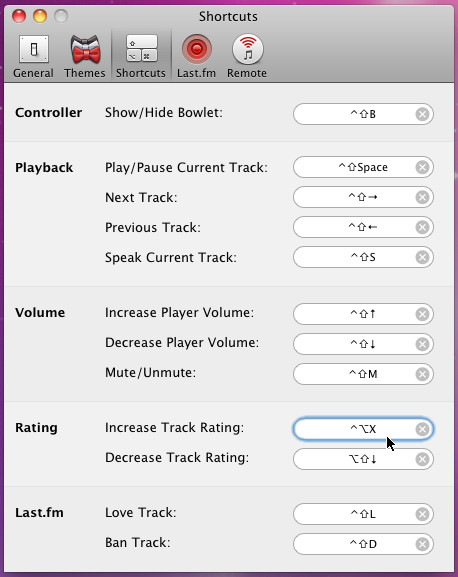 From Last.fm and Remote window, you can login into last.fm account and configure options to control bowtie from iDevices respectively. Once you are done setting the preferences, close the window and open iTunes to launch Bowtie – iTunes controller.
You can also access the menu bar options from right-click context menu.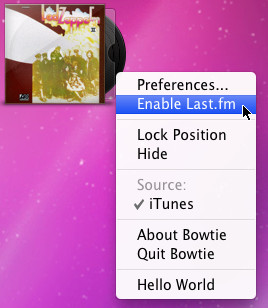 A version for Windows is also available. The Bowtie iPhone remote app is a paid application which costs $0.99. It works on Mac 10.4 – 10.6.