CloudPlay: Search & Play Music From iTunes, YouTube And SoundCloud
Apps that control iTunes from the menu bar have to do much more than just playing/pausing songs to stand out or they fall in line with all the other apps (that are close to a million probably) that do this. It's one of the most ordinary things an app is created for, and while a unique interface will earn an app a few brownie points with users, it isn't enough to stand out. CloudPlay is a Mac app currently in open Beta that isn't just for controlling iTunes from the menu bar. As the name hints, it's developed for playing music from the cloud. Specifically, it will let you search and play songs from YouTube, SoundCloud, exfm, and BandSoup. You can enable a hotkey that will toggle the app's menu bar panel or you can enable it to work with an Apple Remote.
CloudPlay runs in the menu bar without offering an icon in the dock. The menu bar icon, a cloud with a play button in the middle, opens a panel that lets you search and play songs or playlists and access the app's preferences.
The interface has the media controls for playing/pausing a song or playing the next/previous one. A drop down menu lets you access iTunes while the search bar allows you to search iTunes, YouTube, SoundCloud, exfm and BandSoup. The name of the song currently being played and the artist's name is displayed at the top along with album art (if available).
When you search for a song, the results are displayed in the same panel and are grouped by the site they are from. Click a result to play it. Depending on your connection's speed, playback from websites might be a bit jumpy. It's best to let it buffer if you're on a slow connection. CloudPlay remembers what you previously searched for and played; click the drop down arrow and hold it to reveal your previously played item.
A cog wheel button at the bottom left of the panel lets you quit the app, send the developer feedback and, more importantly, access its preferences. From the preferences, you can select which services to search from (you can't add more services), enable a keyboard shortcut for toggling the panel and enable Apple Remote to control it.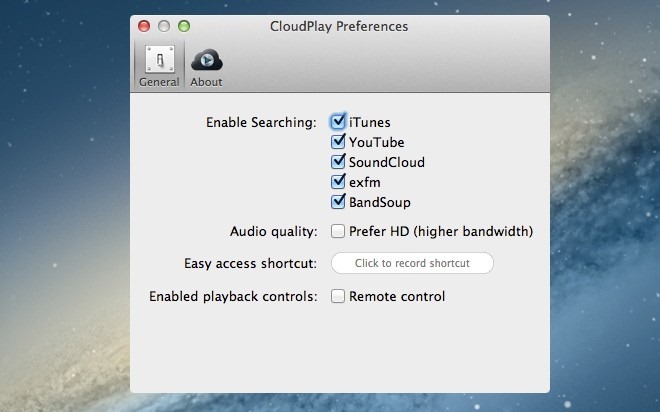 CloudPlay is in Beta and it's a the trial version, which means it will likely have a price tag on it once it graduates to the stable version and you will have to pay for it. However, you can check it out in the mean time and decide if it's worth buying for you.