CloudyTabs Opens iCloud Tabs Synced From Any Mac Or iOS Device
Chrome dominates the browser usage share, this can be credit to the enormous app library, the blazing fast speeds or the ability to sync everything including Google Now, Open Tabs, Favourites and preferences to a profile and access its content on any version of chrome anywhere. With a simple tool, even Firefox can join the festivities. Android users have the best luck where they can close a link on their devices and resume from their desktop at any time. iOS users can do the same with Safari, only there aren't that many desktop Safari users out there. This means a lot of us on the iPhone who use Safari will have to use it on our desktops as well if we want our tabs synced. Fortunately, there is CloudyTabs which can read the tabs that iCloud has synced from Safari (mobile or desktop) and let you open them on any desktop browser you want.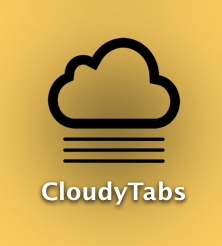 CloudyTabs offers an almost identical functionality seen from Chrome tabs except that it is reading open tabs synced from iCloud Tabs. It is an unofficial solution and, quite honestly, is simultaneously simple and an alien approach to recovering tabs. Open as many tabs as you want on your Safari browser – linked to your iCloud account – and at a click, sitting nicely on your OS X menu bar, you will have access to however many Safari tabs are open on all your devices (current, iOS, other Macs, etc.). Each label in the drop-down menu shows a webpage title and favicon, it's impossible to miss. The best part is that it will open the tabs on your default browser, such as chrome. Simple.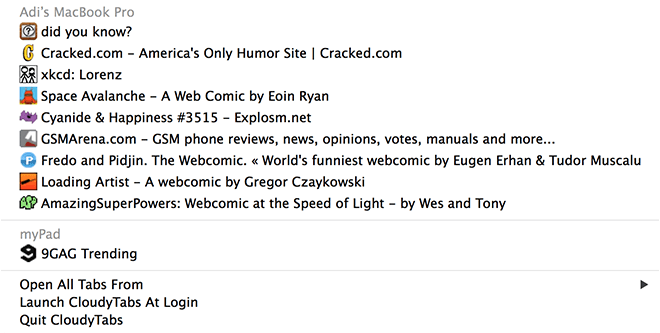 You can open a single tab as a link, or you can open all tabs from a single device, they will be added to your current session. If you want to start a new session, you'll have to manage something yourself, as even if you have a separate browser window open, the links will open in the original one. It is clean enough not to show any blank tabs in the list and smart enough that if you press '⌘ +  click' a link, it will open said link in a background page without switching windows. This is handy as you can open multiple tabs easily.

CloudyTabs is a very interesting approach to tab synchronization in that it can open chrome tabs  on your default browser  – as exampled in the screenshot above (Opera browser). However, you could open all your Safari links via CloudyTabs on your Mac's Chrome (by setting it as the default browser) and then open the same on your device's Chrome. Not exactly the manifestation of efficiency, but it is a possibility; from a tiny app like this, possibility is most important.