Color Splash Smart: Add Color To Selected Parts Of An Image [Mac]
Late last  year, we reviewed Big Aperture, a Mac app worth $ 9.99 (Currently available for $1.99) in the Mac App store that allowed you to add depth of field, lighting and bokeh effects to any photo. Color Splash Smart is a free Mac App from the same developer that changes an image to black and white and allows you to define any region where you want to retain color. Comparable in functionality to InstantPhotoColor, this app is far richer in features. It allows you to adjust the brush size, softness and opacity, and you can adjust the degree of luminance, contrast and saturation when color is added back to the image. Additionally, the app has the same color effects as did Big Aperture; both apps have a similar interface and you should be able to navigate it without a problem.
The app sadly doesn't support drag & drop, but adding a file is a cinch; click Open a File on the start screen and browse for the photo you want to transform.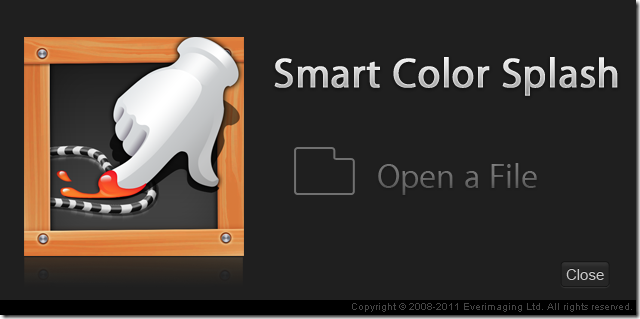 The app will automatically turn the image into a black & white one. You have four tools to work with, the Move tool will move the image around the canvas area, the Brush tool lets you paint the areas of the image that you want to color, the Erase tool lets you remove the Brush tool's effect, the Lasso tool lets you refine the edges of the area that you've painted. When you select the Brush tool, sliders for adjusting the brush size, softness and opacity appear. With the Brush tool selected, paint over the area you want to color, use the Lasso tool to clean the edges and click the Color tab at the top.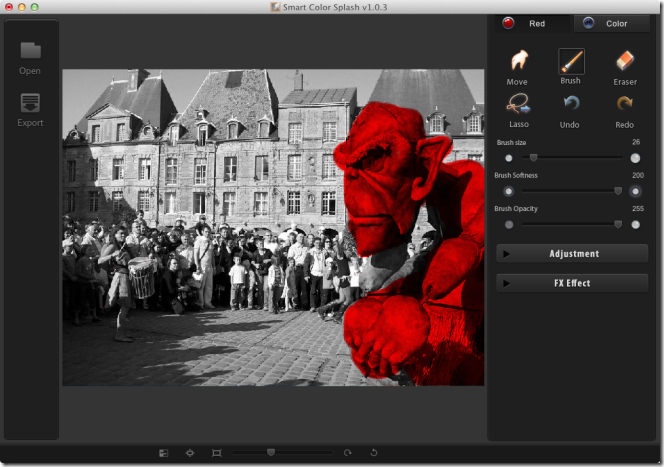 From the Adjustment button, you can change the Luminance, Contrast and Saturation and see the effects reflected live. You can use the controls at the bottom of the preview window to enlarge the preview, see the two images side by side and to rotate it. To apply a color effect to an image, click FX Effect and select an effect from the panel that opens below the preview pane.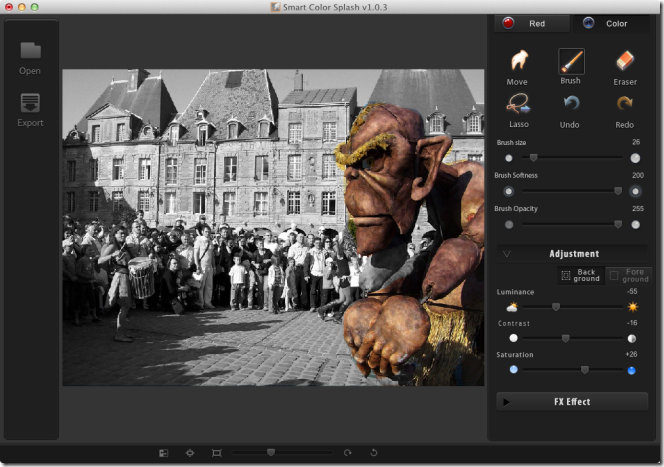 The app is amazing if you want to highlight a particular object in an image; it doesn't recolor the image, but retains the original colors of the image and adds them back to only the areas you want it to. Understandably, it can't work on black & white images; you can open a black & white image if you like, but the app will have not be able to color it.
Get Color Splash Smart From Mac App Store