Cookiepix: Create Collage Desktop Backgrounds; Apply Several Effects To Individual Images [Mac]
Finding a simple plain textured desktop background or a complex color rich one isn't difficult, but nothing beats family photos or anything else that you may have personally snapped. Cookiepix Lite is a free Mac app that lets you combine your favorite pictures and create a desktop background out of them. The app is much like a collage maker that can help you create a wallpaper featuring whatever images you want. It comes with several styles that you can apply to images, and also has color and corner effects for better customization (where the latter simply makes the image look as if it were folded from a corner). Images can be zoomed in to focus on a particular spot, tilted and placed one over the other. More after the break.
Launch Cookiepix Lite and drag & drop images to it. You might want to add them one by one to make arrangement easier. Each image that you add to the app can be selected individually, and different effects can be applied to it. From the Border section, select whether you want the image to appear horizontally or vertically, and choose one of the eight border designs. Add a background pattern and then select a photo effect. For an image that is selected in the pane, there appears a small box of three sliders, which allow you to zoom in and out of a particular part of the image. Once you've added and arranged the images you want as your wallpaper, and have applied effects and borders accordingly, go to File > Save and Set Desktop. You can simply save it as an image by selecting File > Export Picture.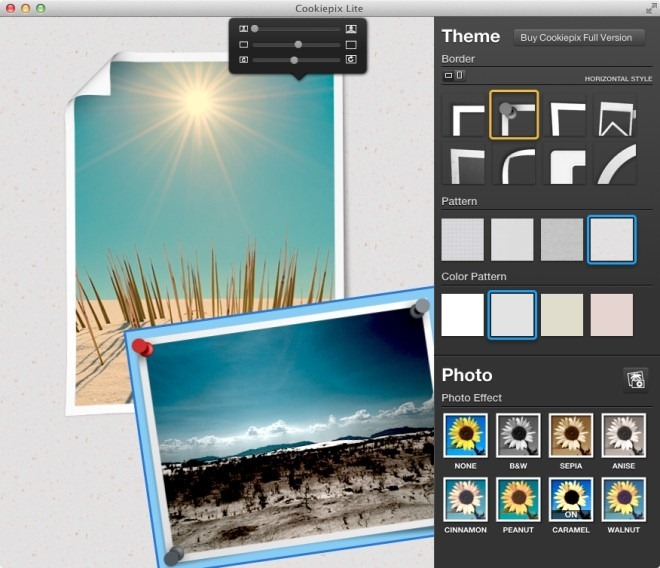 Your desktop should come out looking something like this (see screenshot below), but it is largely dependant on the number of images you've used. The images are arranged on the left, but can be dragged out to any other position. This is to ensure you have a clean spot for all you icons.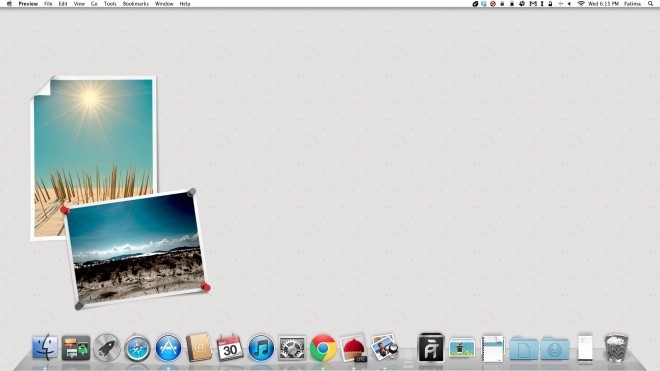 Cookiepix Lite is, as the name implies, a lite, feature-restricted version. The full version of Cookiepix has more themes for you to work with. However, no watermarks are added to images created in the lite version, too, as it is limited only by number of available themes and nothing else. Remember that Cookiepix doesn't just create collages, it creates them specifically for your desktop. You won't find annoying themes that give  the desktop an cluttered look and images are arranged intelligently to keep your desktop functional.
Get Cookiepix Lite From Mac App Store