CorkBoard In The Cloud: Add Notes & Images, Sync With iOS Device [Mac]
Note taking apps for Mac that sync either via iCloud or through an online service aren't hard to find – they just have a price. If your note taking is mostly confined to simple text and images and you don't mind a slight delay in sync time, CorkBoard in the Cloud is a free Mac app that might do the trick. The app is accompanied by a free iOS app that must be installed on your iPhone or iPad. Its interface resembles a traditional corkboard, where images can be added by dragging & dropping them onto the app window. The iOS app lets you add images from your phone or snap new pictures using the camera, and add those images to your board.
When you first launch the app, there will be a sample note added to the board, which you can delete. To add a new note, click the plus button in the top right corner, and type in your note or paste text from the clipboard. Select a color for the note and adjust the font size. Click anywhere outside the note to exist the editor, and your note will be added. To add images, drag & drop them onto the corkboard.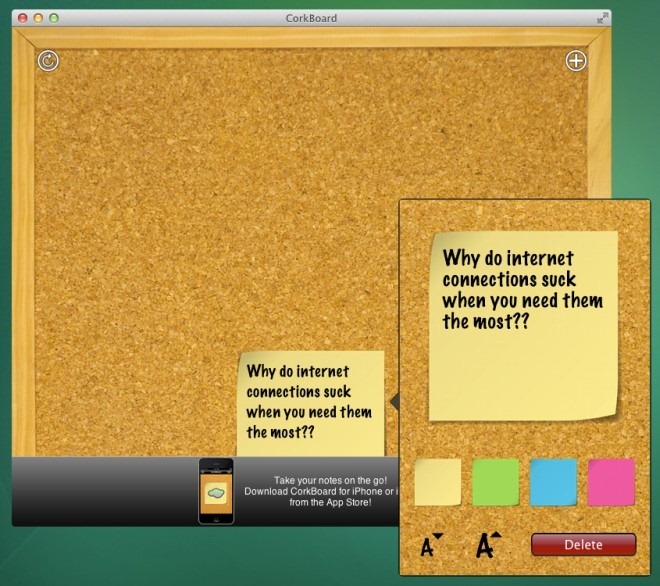 To sync with an iOS device, it should be in the same network as your Mac and should be running the CorkBoard in the Cloud app. Launch the app and it will sync the notes and images you added on your Mac. To add notes on your iPhone, click the Add button, select whether you want to add a note, an image or take an image to add to the board. The iOS app's interface is similar to the Mac version.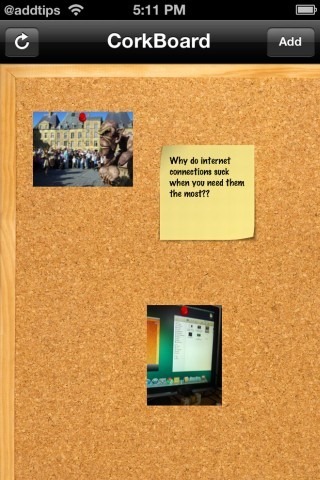 To force the app to sync, click the refresh button either on the Mac app or its iOS counterpart, and it will check for new notes or images that may have been added to your corkboard either way. The Mac app features an ad at the bottom for its own iOS version.
Get CorkBoard in the Cloud For Mac
Get CorkBoard in the Cloud For iPhone