Cream: OS X RSS Reader With Instapaper, Pocket & Readability Support
RSS readers for Mac come in a lot of different shapes. Everything from your desktop background, to the Menu Bar or Notification Center in Mountain Lion can be used to monitor RSS feeds. If you still prefer to read feeds in a window, Cream is a Mac app, worth $4.99 in the Mac App Store, that is worth a try. At the core, Cream is a regular feed reader, but it comes with an extra filter that sorts items by your personal preference. As you read different items in your feed, Cream learns what you like and uses the stats to find other similar news items. Soon, the creaminess filter will be able to sort your feed to display items you are most likely to be interested in. Apart from this intelligent filter, the app has one of the best interfaces you will see on an RSS reader. Like many other RSS readers, it comes packed with a few sample feeds, but lets you choose whether you want to include them too or simply want to import feeds from your Google account, Safari or a file.
It's the ability to detect whichever app you were previously using to follow feeds and import feeds from it. Lastly, it supports Instapaper, Pocket and Readability that will allow you to read an item some other time. Setting the app is possibly one of the easiest things you'll ever do. Launch Cream, click Get Started and sign in to your Google account to import your subscriptions. You can import feeds from Safari or from a file here as well. To access this window again, click the file cabinet icon on the left in the main app window and a new window will open listing all the feeds that have been added. Click Import to reopen this dialog box. You can remove or add a feed individually as well.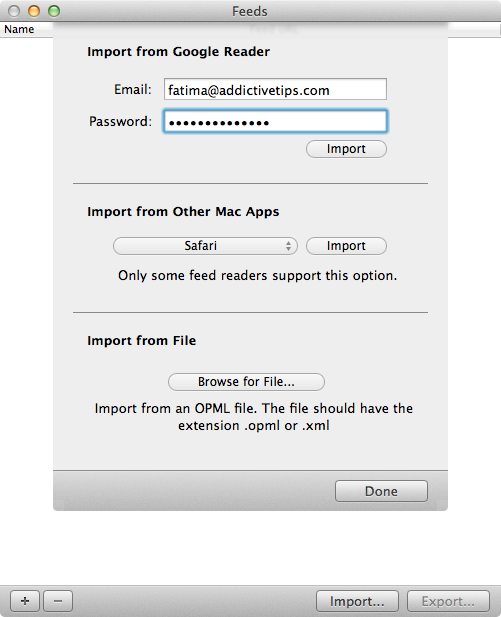 To link your Instapaper, Pocket or Readability account, visit Cream's preferences and sign in to the accounts. You have the option to set Cream as your default feed reader and have stories that you would be more interested in i.e. creamier stories, highlighted in a different color.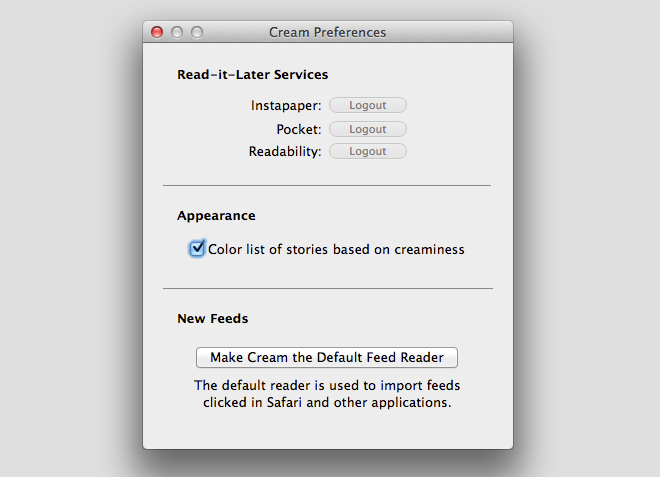 Moving on to Cream's main user interface, you have three buttons for filtering the feeds by creaminess, by source and by date. At the bottom, you have the file cabinet button mentioned before and a refresh button that allows you to check for new items. A filter bar at the top right lets you filter feeds by a keyword. Click an item to open in it a popup. The link at the bottom right will let you open the item in your browser while those at the bottom let you send the item to Instapaper, Readability, Safari or Pocket.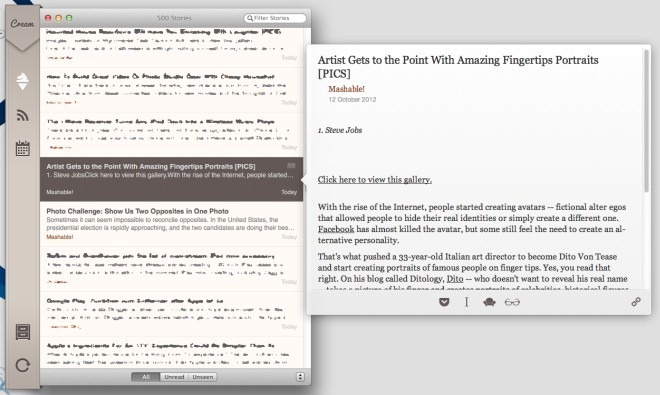 Feature wise, Cream has a lot of things covered, but you will notice a few small and essential things missing. You cannot group your feeds into folders and you cannot mark all items in a particular feed as Read. The app is only a few days old, so optimistically speaking, more features should be incorporated soon.