Create And Edit HTML 5 Websites In Mac With BlueGriffon Web Editor
If you're looking for an advanced WYSIWYG HTML 5 web editor for Mac, chances of you coming across paid HTML and CSS elements editors are high. Instead of relying on multiple small tools to insert and edit the latest HTML web elements, you could use BlueGriffon for Mac. Back in January, we featured a review on BlueGrfiffon for Windows, and today we will look into features of its Mac counterpart.
Since BlueGriffon primary focus is on providing conformance with all the latest web standards, it offers one-click options to include HTML 5 elements into you website.  Be it video, audio, or any other element you may want to add to your web page, it lets you easily insert them without having to gain syntax and usage knowledge. It comes with both design and code modes to let you quickly switch between source code window and actual design of web page.
HTML 5 design specific tools are lined up on main toolbar. It allows user to open code files either in a new window or in new tab. By default, it creates a sample HTML code page with WYSIWYG editor to design different elements of the web page.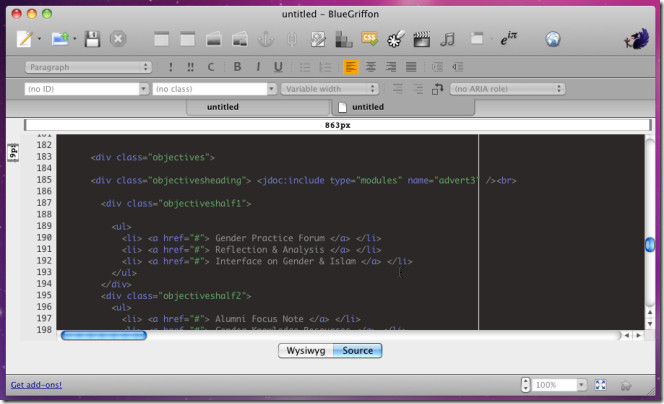 From top toolbar, you can access all the HTML 5 specific tools to add videos, audio, images, tables and so on. If you want to customize the toolbar or remove those which you don't need, right-click on empty area on toolbar and select customize to insert tools, options, and features which are not present on toolbars.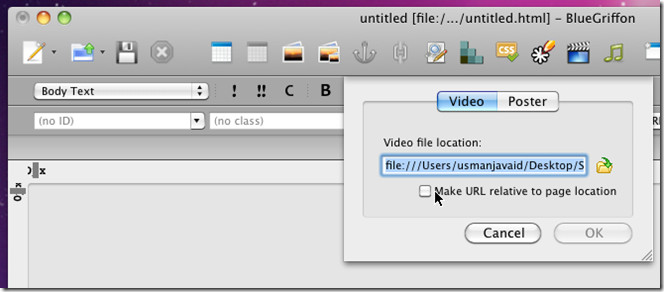 The Browser button at extreme left side lets you associate your favorite browser to get a preview of your page. When you click it for first time, it will ask you to specify browser in which you want to view your web pages. The Panel menu holds DOM and Style Properties panes while all the tools are accessible from Tools menu. Along with user data input forms, you can view list of all the HTML 5 elements from Insert menu.
BlueGriffon comes with an integrated SVG editor to quickly embed code for your drawings and shapes in your web pages. Almost all the essential image editing tools and drawing tools are available while you can import and re-design any shape from its huge sample shape gallery.
It works on Mac 10.5 or later.