Customize Mac Mail App Message And Message Viewer Panes With WideMail
Mac native email client Mail.app, despite being one of the easiest email client to use and configure, doesn't offer options to change the way you view message and message reading (message viewer) panes. If you, for instance, want to open the message reading pane at right side rather than in bottom of the main window or tweak with the message pane that holds all the items of current folder, add WideMail into your Mail.app extension list. It's a small plugin for Mac Mail app which not only lets you customize the message and message reading panes, but also allows changing the basic structure and format of message headers. You can tweak anything from date stamps, alternate row colors to distinguish between message items, grid style line, Intercell spacing of message pane, message and message reading pane divider style, and importantly, message viewer pane position from bottom to right of the Mail app interface.
Similarly, there are many options available to change the info in message header. You can revamp the whole area with your customized order of message elements, including, Subject,  To/From, Date Sent/Date Received, Size and so on. Before you install the plug-in, make sure that Mail app is not running. Once added, it will prompt you to configure the preliminary WideMail options.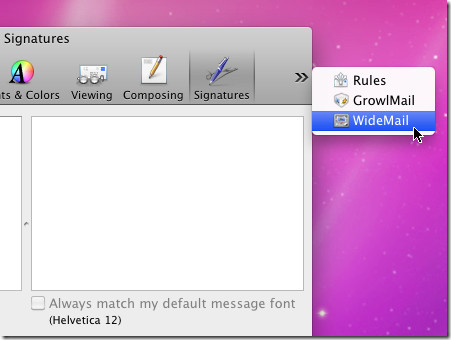 The Setting window has all the aforementioned options to change the outlook of both message and message viewer panes. The General window refers to changing Message list and Mail window options. The Message list options lets you customize the message list by tweaking with display relative date, enabling alternate row colors intercell spacing and grid line style.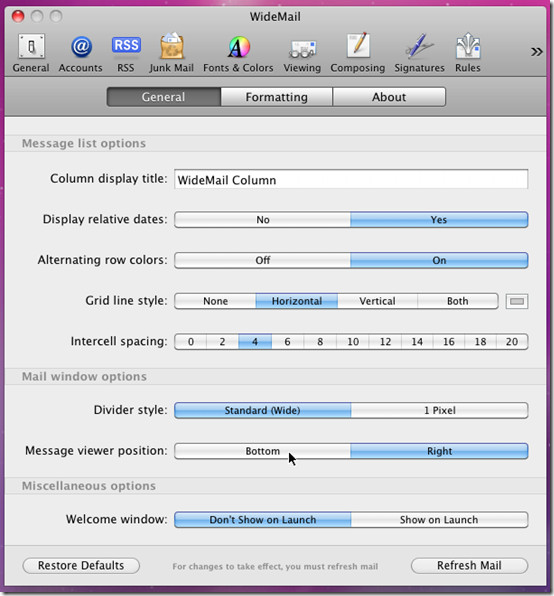 Under Formatting window, options to change the message header in message viewer pane are given. Just drag the element from provided list of message elements to Line one and Line two options input boxes to change the default sequence of elements.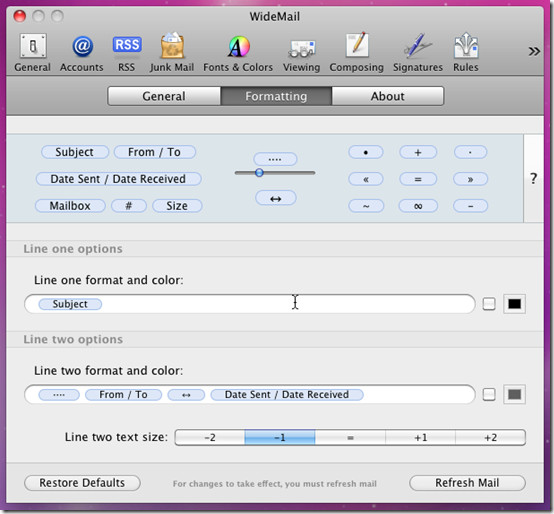 Don't forget to hit Refresh Mail to preview the changes. If you've messed up the viewing structure, you can click Restore Defaults to bring the original settings back.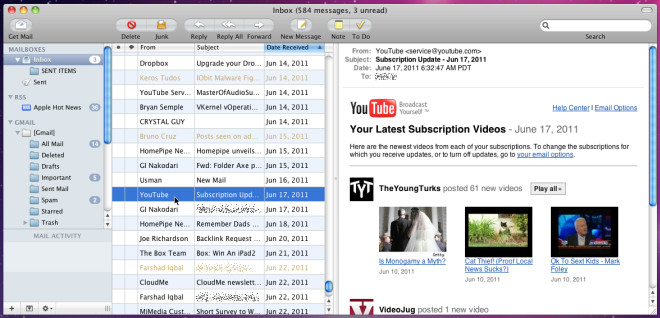 WideMail works on Mac 10.6.5 or higher.