DashExpander Is Text Expansion Utility With Placeholder Feature [Mac]
Developed exclusively for Mac OS X 10.7, DashExpander is free, elegant text expander which includes a dozen features to manage and use text snippets. For those who haven't heard about text expansion tools, they are developed to assist users in adding frequently used text snippets to workspaces via a short form of text section, hotkeys, or pre-defined text strings. Just like any other text expansion tool, DashExpander can save you the time you'd have spent writing somewhat same text section in multiple application workspaces. It gives you the liberty of saving unlimited text snippets and lets you manage them easily via built-in tags features. The search bar is given on the main interface to quickly search text snippets by tags and snippet content.
DashExpander includes one useful feature of adding placeholders to text snippets, which allows you to add suitable words according to context of the document. For instance, you can add name placeholder to quickly add name of the person in a letter, application, email, etc. The placeholders fill option pops-up over application workspace to quickly insert the placeholder text. The DashExpander works silently in background without disrupting any of your tasks; when it finds any default or custom abbreviations, it shows a small box, letting you insert the associated text snippets in the workspace.
DashExpander operates from system menu bar. After launching the application, click Open or use alt-space hotkey combination to bring up the main interface. The main screen has search bar at the top, text snippet area in center, tag cloud at left side, and add tag section at the bottom of the window.
To begin, you need to add an abbreviation for which you want to associate the text string followed by text snippet and tag to add a new Snippet.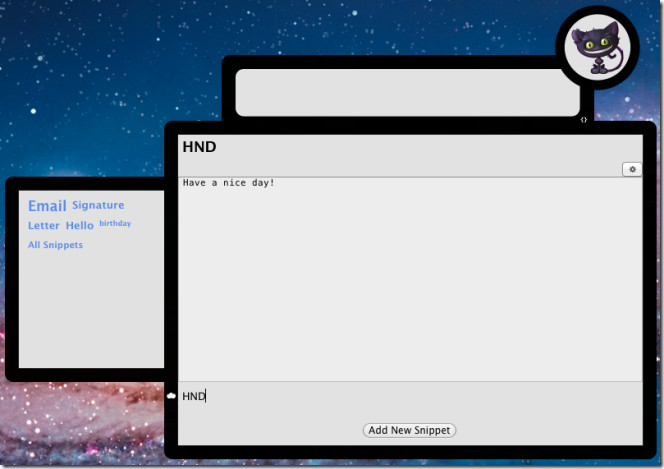 Inserting placeholders in text snippet is easy. It considers text as placeholder which is enclosed in this format,   __ $ text__. To add a placeholder, insert, for example, __name__ in text snippet section in order to manually add name of the person.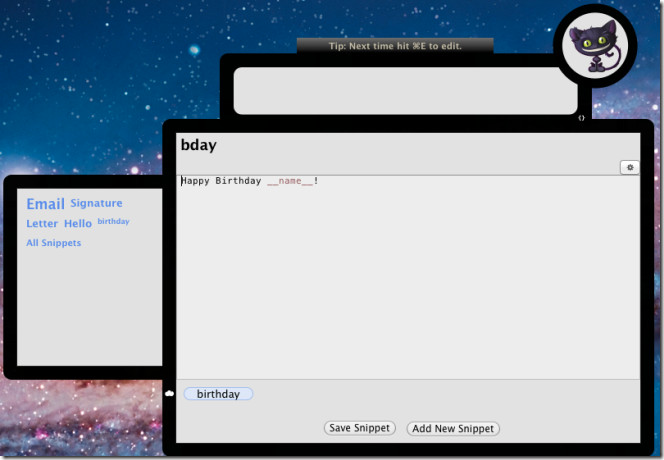 When you write the abbreviation of a text string, a small box pops-up where you can add placeholder text and insert the text snippet in your workspace. If your text snippet contains more than one placeholder, just click the placeholder you want to insert text for. Once all placeholders get filled, press return key to add the snippet with context based placeholder text.
DashExpander allows editing any default and custom text snippets. You can edit text, add more placeholders, etc. It doesn't allow you to expand the snippet with placeholders unless you modify all of them in your snippet.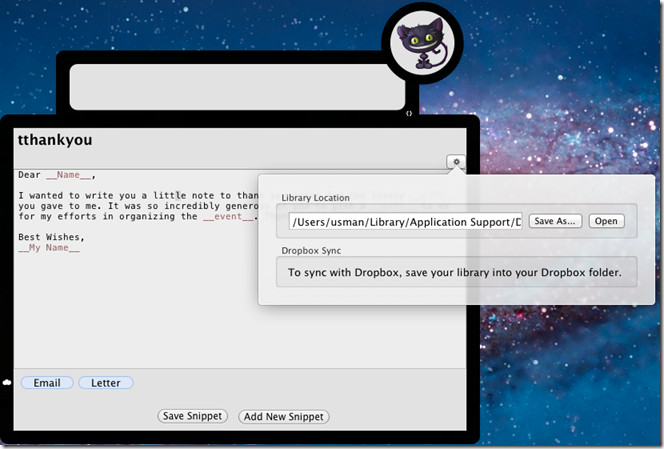 DashExpander prevent users from writing the same pieces of text over and over again in their daily reports, emails, etc. DashExpander works on Mac OS X 10.7 and later.
Get DashExpander from Mac App Store