Day-O Adds Customizable Clock And Calendar To Mac Menu Bar
Day-O is menu bar clock for Mac OS X that provides users with what native Mac OS X menu bar clock doesn't – a pop-up calendar. Not only does it add Windows system tray like calendar to Mac OS X menu bar, it also allows you to change the way digital clock appears. You can customize the AM/PM position and add custom text/characters to make hours, minutes and AM/PM text look prominent. Although Mac OS X native menu bar clock comes with both digital and analog versions, it doesn't allow configuring clock text and layout. Day-O, in contrast, is highly configurable menu bar digital clock, allowing you to define text that you want to show alongside the clock.
Before installing Day-O, it's advisable to disable Mac OS X native menu bar clock from System Preferences; open Date & Time Preferences and disable Show date and time in menu bar option. Now launch Day-O, it puts small calendar box with digital clock in menu bar. Clicking its icon reveals calendar with option to open Preferences. The calendar has small buttons at top to navigate between months.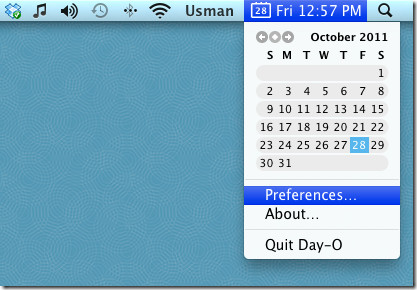 Day-O uses Unicode Patterns for showing day and time on menu bar. In order to change the pattern, click help button present alongside Date and Time Format box to open unicode.org date format patterns page. It helps you pick your favorite day and time format from patterns table. if you for instance want to display military time (24-hour format), you can replace the 'h' with k, it will change the 12 hours text in menu bar with military time format. Apart from adding new patterns, you can change the position of digital clock text by changing the sequence in Preference dialog box.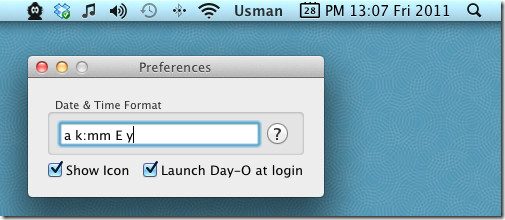 If you're planning to use Day-O as default menu bar clock, don't forget to enable Launch Da-O at login option to launch it as soon as you log in to Mac. Day-O works on Mac 10.5 and higher.