Deliver: Transfer Files Between Mac And iOS Devices Over Wi-Fi
We've covered quite a few apps that let you control your Mac from an iOS device or send and transfer files between the two. What most, if not all, of these apps have in common is a price tag, usually for the iOS client. Deliver is a free Mac app with a free iOS counterpart that lets you transfer files and text between your Mac and iOS device. You can password protect the transfers, and ensure only authorized iOS devices can send you files. The app works over Wi-Fi and file transfers can be initiated on both Mac and the iOS device.
To transfer files or text between devices, both most be running the respective Deliver client, and must be on the same Wi-Fi network. To send a file from your Mac, use either the Command+O hotkey or click the notepad-with-pen like button on the toolbar, and click the plus sign that appears. The notepad-with-pen button is there by default, and lets you paste text that you want to send between devices. To send a file, you will have to click the plus button and then drag & drop it onto the app's interface. Click the History button to view file transfer progress.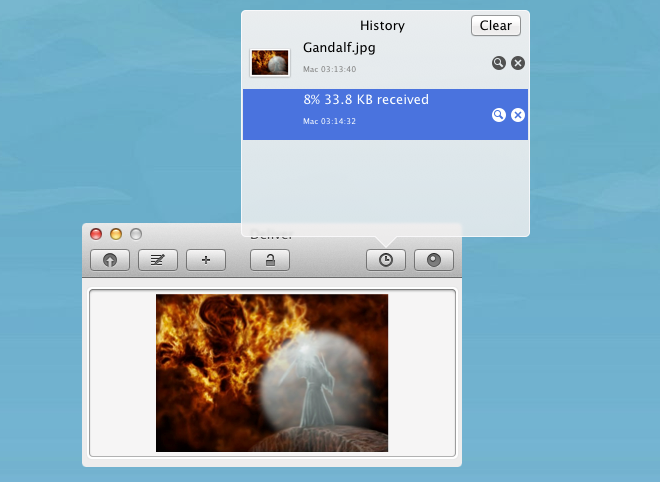 When you send a file to your iOS device, it will give you an audio alert on the target (a bubbling sound) and transfer will begin. To initiate a file transfer from your iOS device, click the plus sign. To send text, click the text icon. To set up password protected transfer from your iOS device, click the padlock button and enter a password. The same process can be followed on Mac for the said purpose.
File transfer is glitch free and works smoothly with images. As with any such app, larger the file size, longer will be the transfer duration.
Get Bubbles for Deliver For iOS From iTunes App Store
Get Deliver For Mac From Mac App Store