Disable Mac Dashboard & Rearrangement Of Desktop Spaces [Tip]
Desktop spaces are, by far, one of the most intuitive ways of managing your apps' windows. For those that don't know, the Desktop spaces don't just group your windows; they're actually smart to remember which ones you use most frequently, and rearranges them as per your preference. The feature is great, but if you prefer to maintain a particular order for the spaces, this rearranging can be quite frustrating. Should you be looking for a simple way to maintain your preferred order for the desktop spaces, this tip is the solution. If you also find the Dashboard to be either useless or annoying (or both), there is a way to disable that as well.
Click the Apple icon on the menu bar and select System Preferences, or open them from the Dock (it really makes no difference). Find Mission Control in the Personal row and click it. You will see three options, each checked. Uncheck the Automatically rearrange spaces based on most recent use and you're good to go.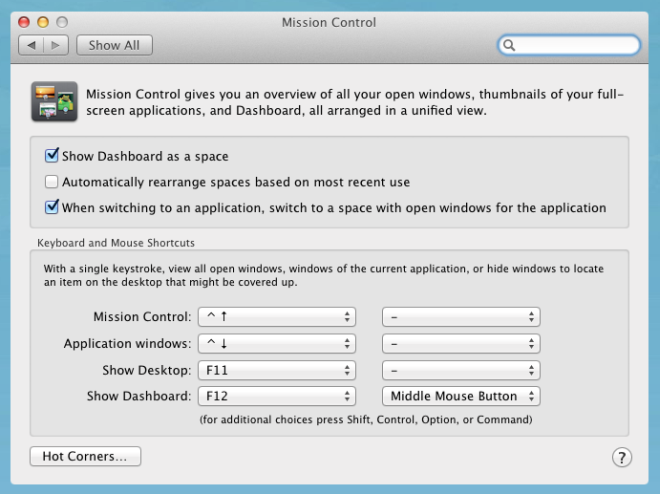 Lion will now retain whatever order you've assigned to your desktop spaces, and ignore your usage preferences. For some of you who might not know, you can reorganize a desktop space by opening mission control and clicking & dragging a desktop space to any other position of your choice.
To disable the Dashboard, uncheck the Show Dashboard as a Space. The Dashboard will no longer appear in mission control; however, if you click with the mouse wheel, you will see the widget bar at the bottom. You can activate a widget and use it from your current Desktop space like you would on the Dashboard, with the slight exception that you will have to first middle click to view the widget.