Disk Scope: Scan Mac Hard Disk & System Libraries For Memory Usage [Mac]
Disk space fills up as time passes and while this is to be expected, cleaning it out isn't easy. It's hard to track down which folder is consuming the most space. To help determine memory usage on a Mac, there are tools like DaisyDisk and DiskScanner, both of which present a graphical view of space consumption by folder. What both these apps have in common is that they drill memory usage down to the folder, but some users consume more space in the system libraries, i.e., the downloads, documents, Applications, Pictures, Music etc. If you would prefer a simpler breakdown of memory consumption for these folders only, Disk Scope is a free Mac app that does the trick. It scans a hard drive and displays memory consumed both graphically and numerically, additionally letting you clear your Mac's cache.
Launch the app and if you have more than just one disk connected, select one of them to scan (you cannot scan multiple disks at once). The app will let you scan other drives as well and give you a breakdown of used space in them, but when you scan your Mac's HDD, the break down of space consumed is different.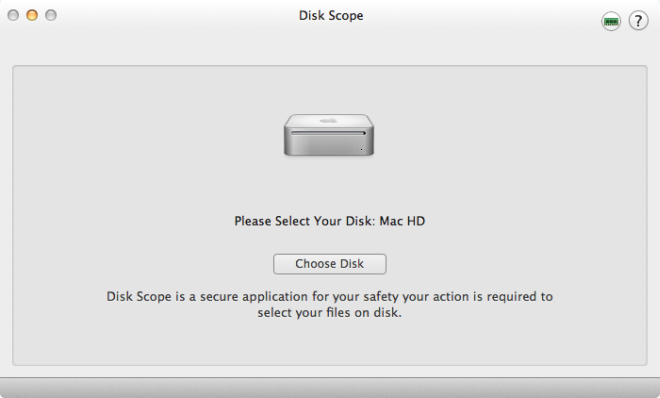 Depending on the size of your hard disk and how much memory you've consumed, the scan will complete in a reasonable amount of time. The results show the total consumed space in the hard drive itself, followed by a Clean Up Caches button that will allow you to purge the respective temporary storages. The space consumed for libraries is then listed with a small magnifying glass icon under each folder that opens it in Finder.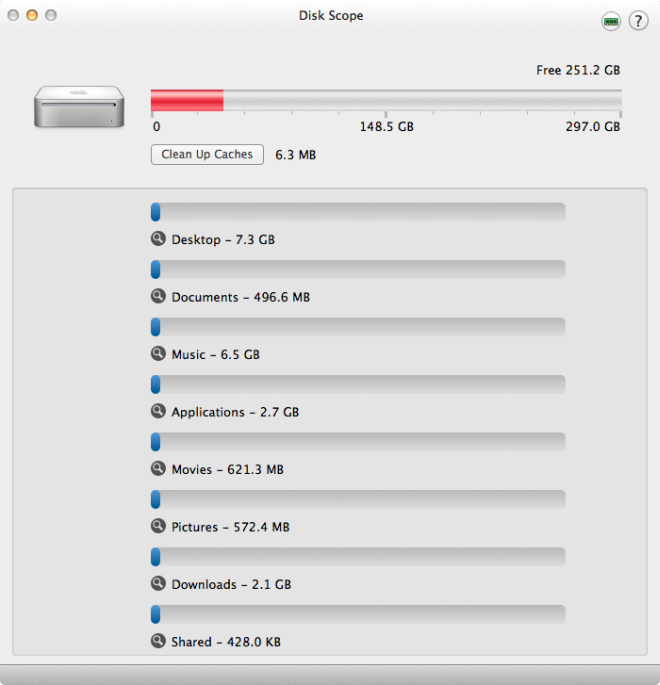 Disk Scope is rather low on features but it does its one trick well, and the interface is good. There are several improvements that can be made to the app, like adding the option to scan any folder selectively and cleaning the cache built by certain apps like the Mac App Store. Since the app is free, there isn't much anyone can complain about in terms of lack of features, but the usability is rather limited. Of the two apps mentioned earlier that provide a more in-depth one of them is free (though it does not have as nice an interface as Disk Scope), and does more than just a simple scan of your libraries,
The app has no preferences to manage and is ad free. A small chip like icon in the top right corner opens the Mac App Store page for another app by the same developer. For minimalistic information about memory consumption, Disk Scope is fairly good.
Get Disk Scope From Mac App Store