[Giveaway] DragonDrop Makes Drag & Drop Easier By Providing A Temporary Holder For Copying Files [Mac]
If you've used a Windows PC, you know there is no such thing as Desktop Spaces like there are in Mac, and, without question, they are an excellent feature to have. While they make it extremely easy to manage windows and group your work by the apps you have opened, it can sometimes be inconvenient when you have to move an item from one desktop space to another. DragonDrop is a Mac app, worth $4.99 in the Mac App Store, that acts as a 'holder' for any file, folder or text you want to copy and paste from one location or space to another. The app works entirely in the Menu Bar and captures anything you drop onto it, leaving you free to use your mouse for clicking, selecting and dragging other things around.
Note: DragonDrop has a price tag of $0.99 on the App Store. We're giving away ten promo codes for the app to 10 lucky readers, details for which can be found at the end of this post.
When the app is launched, it adds a shield-like icon to the Menu Bar. Adding items to the app simply requires you to select them and drag & drop onto the Menu bar icon. You can hold down the Command key and select multiple items to drop on the icon. While you can add multiple items to the app, you can only do so by selecting them at the same time. Once an item is added to the app, if you drop another file or folder to it, it will replace the previous one.

The app has an additional feature that you can enable from its preferences by selecting the Activate when I shake mouse option. When you select an item, and (while still holding down the mouse button), shake it slightly on the screen, and DragonDrop will capture it.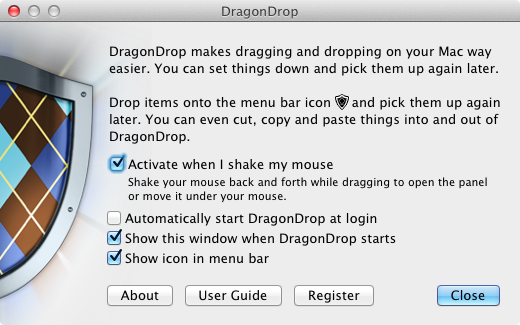 Droppy is a similar app that does the same and is worth $0.99, but does not have the mouse shake and capture feature and is less responsive.
Get DragonDrop From Mac App Store
Giveaway: We're giving away 10 promo codes for this app. The giveaway will last for 48 hours. Participation is simple. Follow @addtips on Twitter, tweet/retweet the giveaway and in the comments below, provide a link to your tweet. Alternatively, you may comment on our Facebook or Google+ page, where the comment should preferably be under the shared post and not on the page itself. Our editors will pick the five winners randomly.
Update: The giveaway has been closed and promo codes have been sent to the winners.