DrawnStrips Reader Is Comic Reader With Mac Lion Multi Gesture Support [Paid]
Supporting Mac OS X Lion Full-Screen feature. DrawnStrips Reader is a freshly launched comic book reader that supports both widely used comics format – CBZ and CBR. The application not only offers a minimalist user interface, but also supports Mac OS X Lion multi-touch gestures, which make it easy to navigate through comic book. You no longer have to use keyboard shortcuts to control the comic book; using the Mac OS X Lion touch gestures including swipe, pinch and scroll gestures, you can flip through pages, zoom in/out and scroll up and down the page. Moreover, it puts a thumbnail bar at the bottom of comic page to let you easily jump to your favorite section.
Like previously featured Simple Comic, it includes zoom in/out options, page layout and scaling features, single and double page view, option to read from left to right and vice versa, two pre-defined zoom levels to quickly adjust the page vertically and horizontally, and page rotate options. These page layout, zoom, rotate, etc., options are mapped with pre-defined hotkey combinations. You can check out all supported shortcuts from View menu.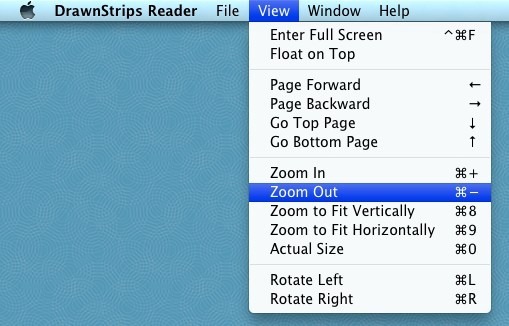 After launching the application, just drag the CBZ or CBR file over its dock icon to open the comic book. The thumbnail bar at the bottom allows you to easily jump to selected sections, switch to 2 pane page layout and change page order (right to left).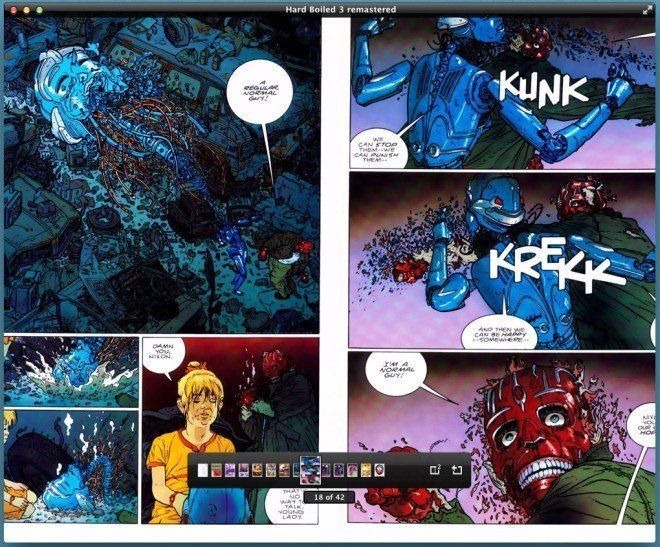 Apart from aforementioned hotkey combinations, you can use the Mac OS X Lion multi-touch gestures to navigate through comic book and change page zoom levels. DrawnStrips Readers is a paid application that comes with a price tag of $ 0.99. It supports Mac 10.6.6 and higher.
Get DrawnStrips Reader from App Store