DropboxAppSync: Sync App Data Across Systems With Dropbox [Mac]
If you don't know what Dropbox is, it might be a good time to choke ?yourself with a light saber. Cloud storage, file sharing and syncing are things that have gained so much traction in the past few years, that it has now become a religion in Sweden (no joke). For those of you who may already be sharing and syncing files via Dropbox, you can now sync app data with it using DropboxAppSync for Mac. This app lets you choose and sync data for other apps between two Macs via Dropbox, ensuring that no matter what system you're using, you're data is not only backed up but synced.
The app itself has no interface, and each time you launch it, you will only see a prompt telling you that your app data for those apps that you choose to sync, will be relocated. The app creates a backup of the app data on your desktop, ensuring that, should something go wrong, you can instantly recover your data from the folders on your desktop.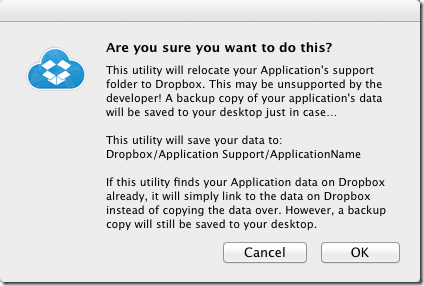 Click OK and proceed to select an app from the Open dialogue box. Remember that, while syncing via Dropbox is fairly common, the developer has mentioned that not all apps might support it. A small gear icon in the menu bar will tell you the app is processing your data.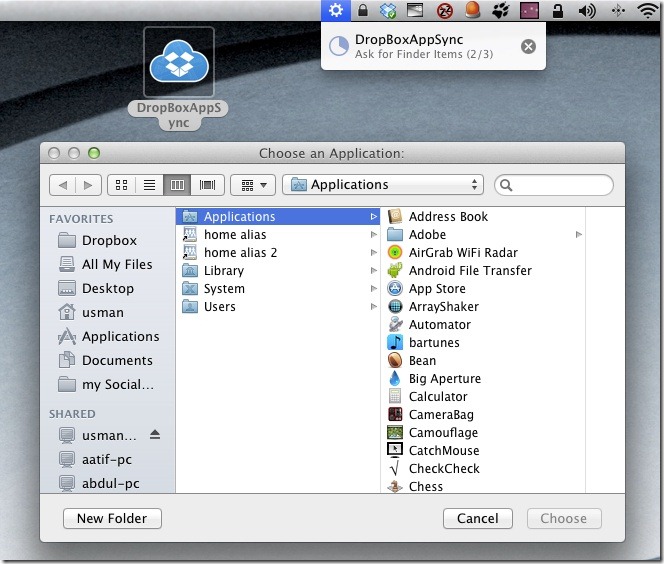 The app will create an Application Support folder at the root of your Dropbox folder. For each app that you sync, a folder will be created inside this folder. Since the app is meant to sync data between two Macs, you will have to run the app on both Macs that you want to sync data between. The process is the same for both systems; you just have to make sure the app you are syncing isn't running when you set up sync. Once you've set up sync on both Macs, the app will sync all newly added files, and the old files will not be replaced. To unsync data. simply remove the an app's respective folder from Dropbox.