[Giveaway] Droppy: Easily Move Files Between Desktop Spaces & Apps On Mac [Paid]
Desktop spaces in Mac make it easy to manage multiple apps and windows. Compared to Expose in Snow Leopard, Desktop Spaces, coupled with Mission Control, let you easily distribute and organize your work without overthinking it. While this feature is mostly convenient, it does get difficult to switch files from one space to another, or between two apps that you have open in different spaces. Droppy is a Mac app worth $0.99 in the Mac App store that gives you a simplified way of transferring files between two apps on different desktop spaces. The app adds a wormhole area to the screen, visible across all spaces, where you can dock a file. You can then swipe between desktop spaces and drag the file onto the app you want to add it to.
Note: Droppy is a paid app coming in at $0.99. AddictiveTips is giving away 4 promo codes for this app, details for which can be found at the end of this post.
The app adds a warp beam to the menu bar. Click the icon, and a hover robot will appear in the top right corner of your screen. The robot is armed and pointing towards a square drop space. Drag & drop a file on to this space. A file has successfully been added to the app when the robot revs up and starts shooting his laser gun at the drop space.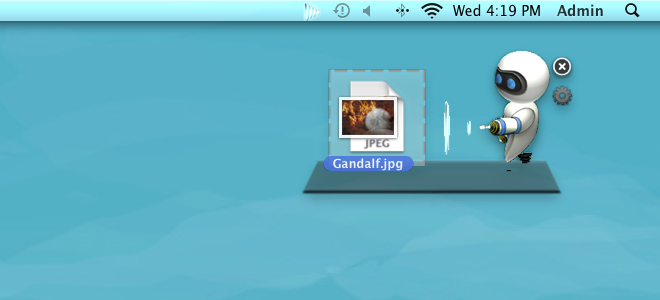 Move between spaces and grab the file from the app's interface when you are ready to add it to another app or folder. The app, by default, docks to the top right of the screen, but can be moved anywhere else. To set the app to start at login, click the cog wheel button on the interface and check the Start at Login option. Use the arrows to dock the app to any other corner, and increase or decrease the app's size by moving the Dimension slider.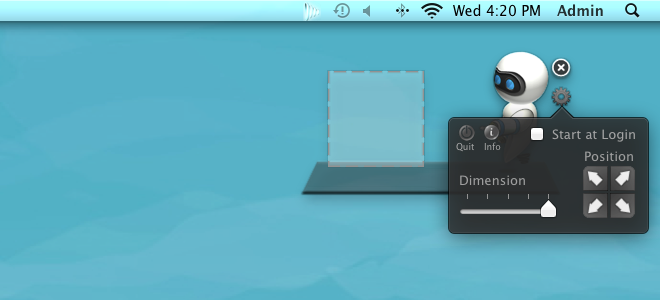 While this isn't one of those apps that you can't live without, it is nevertheless useful; instead of having to hold on to a file with your mouse as you browse between apps and spaces, you can just dock them to a corner and use your keyboard and mouse freely. The file you want to move can be retrieved at any time.
Giveaway: We are giving away 4 promo codes for this tool. The giveaway will last for 24 hours. Participation is simple. Follow @addtips on Twitter, tweet the giveaway and in the comments below, provide a link to the tweet. Alternatively, you may comment on our Facebook or Google+ page, where the comment should preferably be under the shared post and not on the page itself. Our editors will pick the four winners randomly.
Update: This giveaway has been closed. Winners will receive their promo codes shortly.
Update 2: Promo codes have been sent.