Easy Video Converter Supports 80 Media File Formats And Drag & Drop [Mac]
Among all the genres of apps that we have covered, a large chunk probably consists of video converters. Being as abundant as they are, most of the free offerings are fairly functional and feature-rich. Easy Video Converter, as the name implies, is a free Mac app that converts video formats. What the name doesn't imply is that it's a media file converter that can convert files into 80 different formats. The app was previously worth $9.99 in the Mac App Store, and has now gone free. In addition to the large number of output formats that it supports, the app also lets you resize videos, and change frame and bit rates. You may manage these variables for audio and video files separately.
Easy Video Converter has a drag & drop interface, and lets you convert files in batches. You can drag & drop a single file or an entire folder onto the app. The second you drop files, conversion begins, which is why you should select the conversion format first. From the Convert To dropdown, select which format you want to convert the file to. Formats are categorized by the device/platform they are compatible with, and include Apple devices, Android devices, Other devices, Blu-ray Video/DVD Video, Video Formats, and Audio Formats.
To change the size, frame or bit rate, click Settings next to the Convert To dropdown, and from the panel that pops up, select the size of the video under Resolution and the frame and bit rate. The options on the left are for video, and the ones on the right pertain to audio.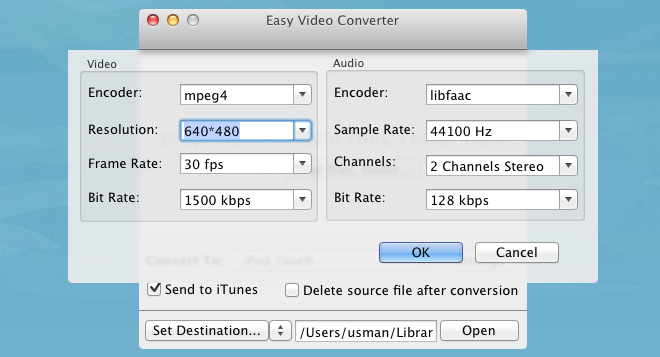 The app, by default, saves output to a folder in ~/Library/Application Support, which is hidden under stock settings. You can change the output destination from the Set Destination option at the bottom. The app converts fairly quickly, but that will vary with system configuration Most formats are converted flawlessly; however, there was significant discoloring when a video was converted to GIF format. The result for other formats was good.
Get Easy Video Converter From Mac App Store