Evom For Mac Converts Videos From The Web And Exports To iTunes
Evom is a lightweight video converter and video transfer tool for Mac that will wholly satisfy your daily video conversion needs, especially if you use iTunes to sync with your iOS device (iPhone, iPad, or iPod). While you have option to export converted videos directly to iTunes to sync them with your iOS device, it also lets you grab videos from web in order to convert and send them to iTunes library on the fly. As per developer, it makes use of your spare Mac processing strength to convert videos with high speed.
Usage is similar to previously reviewed Media Converter for Mac. Just drag or specify the video folder to convert video into required format. If iTunes option is selected, converted video will go straight to iTunes folder, so you can sync it with your iPhone, iPad or iPod. It's also capable of converting selected videos directly to your Apple TV compatible format. If you don't want it to convert videos for some specific device, you can always choose to convert video in AVI, FLV, MP4, HTML5, MOV, MPG, and WMV formats. Moreover, you can extract audio out of given video file and convert audio stream into OGG and MP3 formats.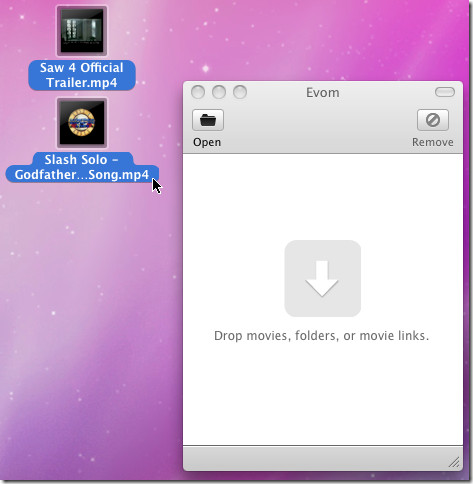 When you drop video files which you want to convert, configuration box will pop up, asking to specify the output format. You can choose to send it directly to iTunes, and convert it to iPod and Apple TV compatible format. In Folder window, you specify the output folder, location, title, and quality of video to encode the video files.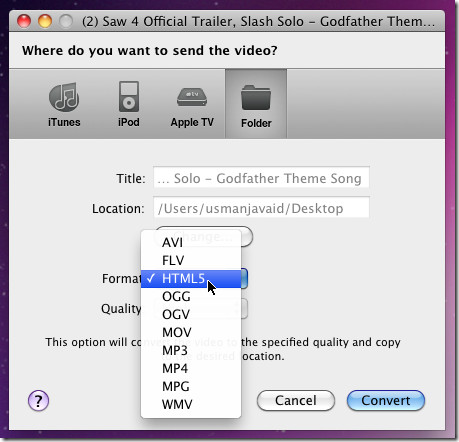 Once all settings are in place, click Convert to begin the conversion process. It will first convert and then save the video at defined location.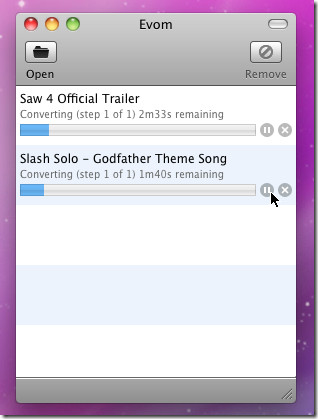 Evom works on Mac 10.5 or later.