"File Viewer" For 60 Audio, Video, Image, Web & Text File Formats [Mac]
File formats for just about every file type are numerous, and when it comes down to users on different operating systems, this disparity gets worse. While you can chose what types of files you create and download, you cannot tell someone else which format to send you a file in. This can, more often than it should, result in you sitting with a file on your disk with no means of opening it. File Viewer is a free Mac app that solves this problem for some 60 common formats. It is a file viewer for audio, video, image, text and web files, and supports multiple formats including DOCX, which means your friends, family or co-workers who use Windows and create documents on MS Word can send you files without converting them to PDF.
The app's interface sports simple drag & drop, and the file opens in a matter of seconds. In addition to opening  files, you can also drop folders on to the app and get a quick summary of its contents.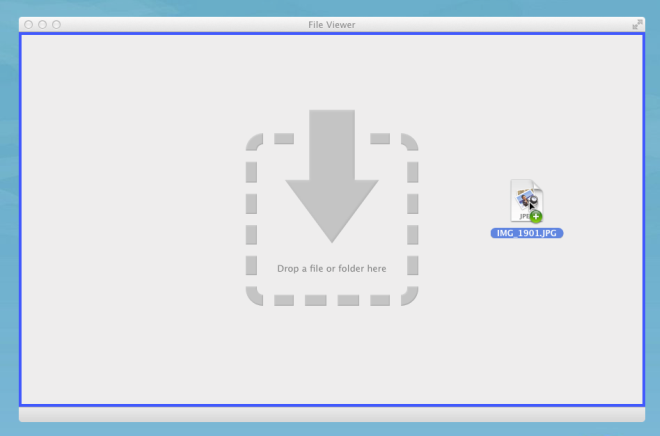 in addition to showing the contents of the file, the app also shows you detailed information about a file, including EXIF data for images, which program was used to create that file, author's name, system's name and file permissions.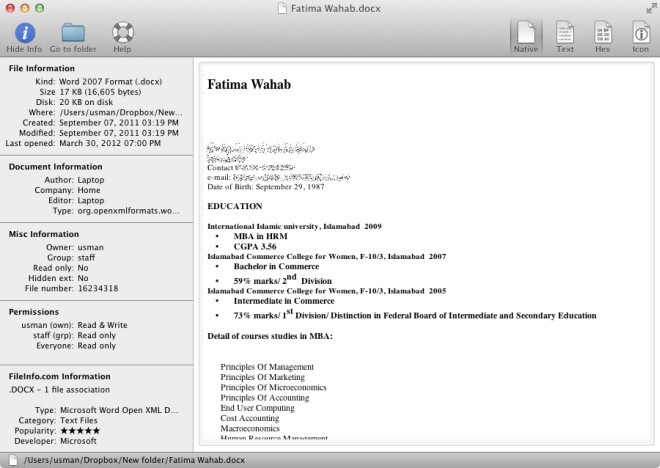 When you drop a file onto the app's window, it is divided into two; the left panel shows the file information, while the right one previews the file. If you aren't interested in viewing file information, you can hide it by clicking the Hide Info button at the top. Additionally, if you want to open a file at its location, click the Go to folder button at the top. You will see additional buttons at the top when viewing images. The app does not modify the files in any way, and can play your audio and video files just as well as any media player.
Get File Viewer From Mac App Store