Find And Analyze Available WiFi Networks On Mac With KisMac
Sometimes we need to know about wifi networks available in our vicinity with all the network related information, like signal strength, max transfer rate, and encryption type. We often use a wifi stumbler that can quickly show us which wifi networks are open, encrypted with what type of techniques – WEP / WPA2, and the signal strength, among other information.
Out of all basic Wifi Stumblers available for Mac, KisMac is a lightweight and opensource Wi-Fi scanner and analyzer which gives insight into available Wifi networks with information including, Network name, BSSID, Encryption (WEP/WPA2), Type of encryption (Managed / Adhoc), Signal strength, Max rate, and Last seen/accessed. It uses monitor mode to find out available networks with all the provided information with passive scanning.
According to the developer, it supports a range of 3rd party USB cards, including both Prism2 and USB Ralink. Other prominent features include, showing logged-in clients with MAC addresses, IP addresses, and Signal strength, Network maps with GPS support, mapped network area, and more.
KisMac comes useful when you want to reveal any hidden or cloaked SSIDs to check network connectivity information.  To begin, launch the application and click Start Scan in bottom right corner to reveal all the available Wifi (Encrypted/Non-Encrypted) networks available in your area. It will start scanning and listing down the available networks with all the aforementioned information dispersed in multiple columns.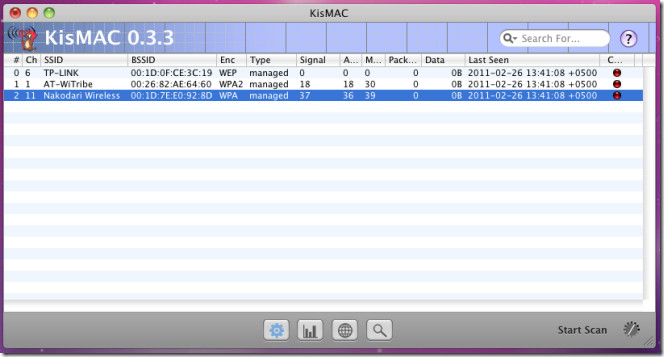 Being an interactive application, it keeps you updated about the current process. For instance, if it finds a new network, it will notify user with pop-message, showing type and basic network information. From the bottom pane, you can bring up global map. Use zoom in/out to check the available networks with strength. Clicking bar graph button will show you the network information in different graph types, letting you analyze signal strength and bytes sent/received visually from defined amount of time.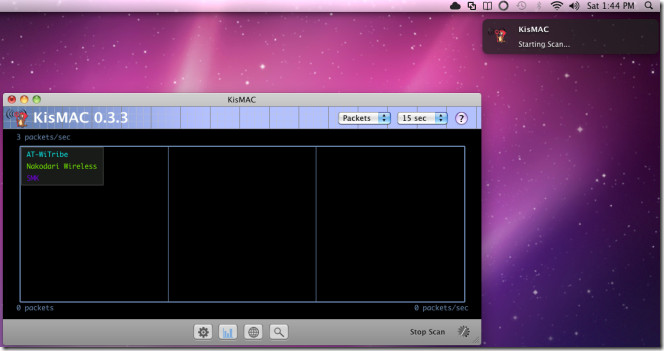 Overall, KisMac offers a detailed overview of available Wifi networks. Before installing it on your Mac, do check out author's Wiki section to find more about the provided features.