Find Best Product Deals On Amazon With Prices Drop Monitor [Mac]
If you often miss out on hot deals for products listed in Amazon store, Prices Drop Monitor For Amazon is what you need. The application helps you keep a price check on specified products. It seems quite akin to previously covered Amazon Watcher for Windows, which sends a desktop notification when a selected product's price drops. Prices Drop Monitor For Amazon works in a somewhat similar way. It asks you to add products from the Amazon Store, so that you can keep a check on products availability as well as their prices. Furthermore, it lets you know the right time to purchase selected items. Once items are listed, it checks for their prices after every 4 hours, and on finding the best prices, it immediately sends an alert to the user.
The application doesn't require you to sign up with Amazon to keep check on product prices. After installation, launch the application and open Amazon Store in your browser. Now, all you need is to drag the product description page link over the app's product bar. Similarly, you can drop as many products as you want to get notifications when their prices drop. It reads product info to filter the product list by new, starred etc.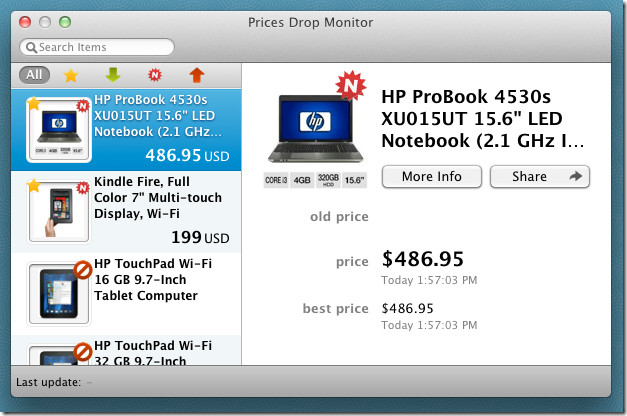 The application sits in system menu bar, from where you can bring up its main interface and Preferences dialog box. In Preferences, you can change the Polling time (product price check time interval), and enable/disable desktop alert and beep notification.

Prices Drop Monitor For Amazon works on Mac 10.6.6 and higher.
Download Prices Drop Monitor For Amazon