FinderPop: Access Desktop, Apps & Custom Folders From Anywhere In Mac
FinderPop is an application which extends contextual menus using its own custom folder items. The latest version 2.4 supports both Mac Snow Leopard and Mac OS X 10.7 Lion, featuring numerous new options to access Desktop, mounted disk images, processes, and user-selected items residing in its FinderPop Items folder. For those who are not familiar with FinderPop, it adds convenient options and menu to Mac OS X default context menu allowing users to quickly access desktop items, processes and frequently used files and folders.
Unlike other Mac OS X context menu extenders, it offers a quick launcher which can be accessed by clicking anywhere on the system menu bar. FinderPop is customizable in terms of how you want to access items from its menu. You can choose to tweak with its appearance and specify when to invoke the menu, enable/disable Desktop submenu, and change default number of items to be remembered and so on.
The application comes as a Preference pane, i.e prefpane file format. Thus, it integrates directly into System Preferences. Once installed, click FinderPop in System Preference to access preferences. Under Preferences, you can completely disable all FinderPop menus and sub-menus, from underneath the search bar. Under Preferences, you can change appearance and application generic options, and add files and folders to FinderPop Items folder which will be accessible from right-click context menu.
Starting off with Appearance, you can toggle Inline FinderPop items to context menu and show only applications which can open the selection options, enable/disable use of custom icons in FinderPop submenus, show and hide dot files and invisible items, etc. It also lets you change the FinderPop Menu font size and sort order of FinderPop Menu items.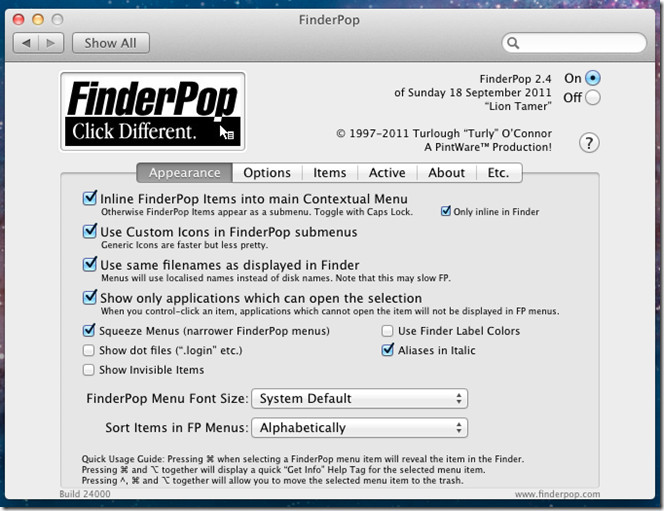 The Options tab deals with adding and removing Contents, Desktop, and Processes submenus. You can enable option to show submenus on pressing Shift key, set Finder Control-free Popup Delay, change number of items to Remember, etc.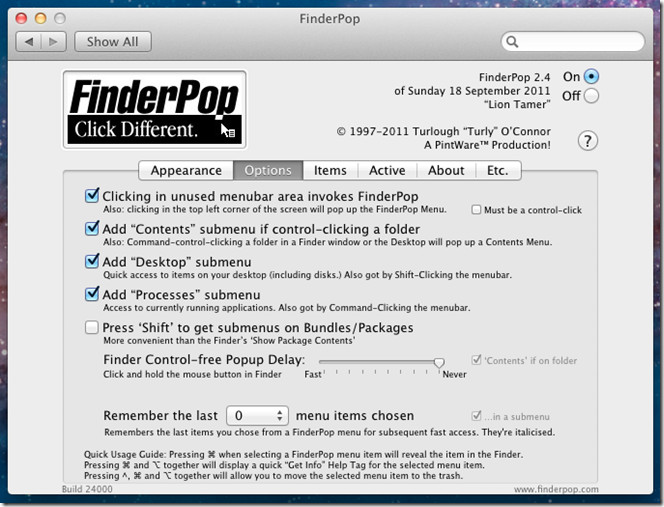 To access FinderPop Items folder, go to Items tab. Click Show FinderPop Items folder to reveal it. You can create aliases to application, folders, and files which you use most frequently. If you insert a sub-folder in FolderPop Items folder, it will create a new menu in Finder right-click context menu.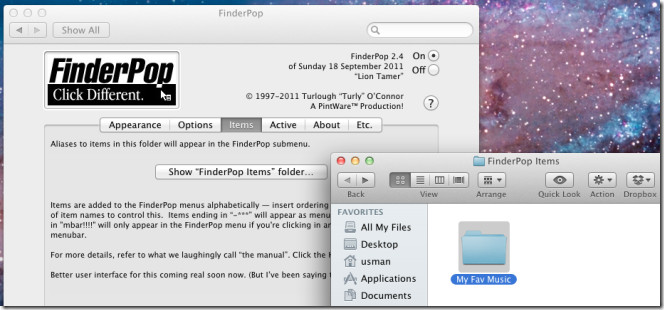 Once you've configured the settings, close the Preferences. You can now access your custom FinderPop Items files and folder, desktop items, and view & access current processes, all from right-click context menu.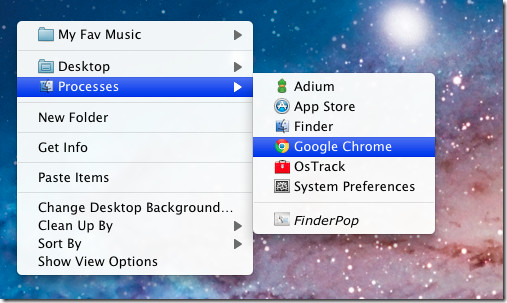 The sub-folder added to FinderPop Items folder can be accessed from its respective menu. You can use command + left click hotkey combination to open the file in Finder.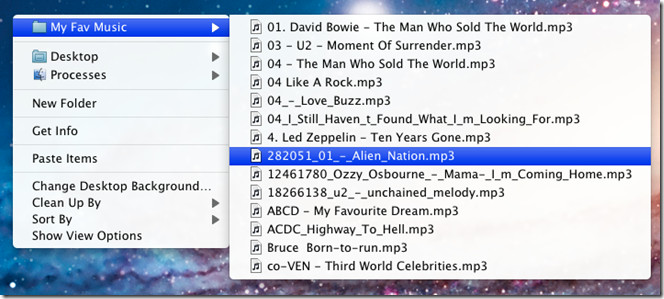 Quick launcher can be started from anywhere in the menu bar. Just click any empty space to access the Desktop, Processes and custom folder menus.
FinderPop adds some small yet useful options to context menu items. For example, when you hold alt+command key and hover mouse pointer over its context menu item, it shows on-screen information of item in focus. Whereas, when you hold control+alt+command key, it will send the focused item directly to Mac OS X Trash. FinderPop works on all versions of Mac OS X.