FLV Crunch – Free Media Converter For Mac
We have covered various converters for both Windows and Linux, but when it comes to Mac we don't see many great media converters that are worth sharing. Most are restricted, some are paid only, others are full of bugs.
Recently I stumbled on FLV Crunch, a free video/audio converter for Mac developed by a author who goes by the name of ProgammerKid. Unlike the name says, not only does it convert FLV format but can convert almost any media format to another format.
The app itself is dead-simple to use. You only have to select the source video, choose the format to which you want to convert and also the output destination, and finally select frame, bitrate, and resolution. Once done, hit Start and it will instantly convert your media.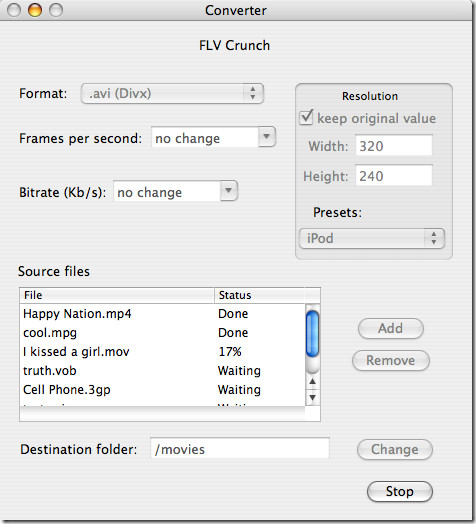 According to the author, it can convert the following formats:
FLV (Downloaded YouTube videos), MPEG 1 (.mpg), MPEG 2 (.vob), MPEG 4 (.mp4), Quicktime (.mov), Cell Phone videos (.3gp), Windows Media Player files (.wma, .wmv), RealPlayer files (.ra, .rm), Divx AVI (.avi), Digital Video (.dv), MP3, and AAC files.
into the following:
MPEG 1, MPEG 2, MPEG 4, Quicktime Mov, 3GP, Digital video, Windows Media Video (wmv), Divx AVI, MP3 (audio only), and AAC (audio only).
You can select  the video and sound quality from the Video and Sound menu bars respectively.
It works on Mac OS 10.1 or higher. Enjoy!