Framator: Resize Windows With Pixel Precision For Screencasts & More [Mac]
We've detailed Mac's built-in screenshot capturing ability that works with Preview earlier, and no one can say that it lacks full functionality. Compared to it, the screenshot feature in Windows is almost useless, and PC users have to download a third part app to take a half-decent snapshot of their screen. Preview may have screenshot actions covered, but there are multiple other instances where you might need to sketch out pixel specific dimensions on their screen, like when creating a screencast. Framator is a free Mac app that allows you to create a frame and customize its dimensions as per your requirements. The frame can be moved around on the screen, and all icons and windows within the frame can be used normally. The app is free until the end of June, and since the functionality is rather minimal, free seems the best price to get it for. It comes with two frame presets that are ideal for submitting app screenshots to the Apple Store, so developers might be more interested in this app than the casual user.
Framator adds a frame icon to the Menu Bar. It has no preferences or Dock icon. Click the Menu Bar icon and from the options, select a frame size. Both the sizes can be changed, so if they don't match the dimensions you need, just pick one at random and resize it. The two available sizes (by default) are 1280 x 800 and 1440 x 900.
When the frame appears on the screen, everything outside it is darkened out. There is a close button at the top left, which will remove the frame; however, the app will continue to run in the Menu Bar. At the top right, the dimensions of the frame are written. Mouse over the number and you will see arrows appear on either side. If you click, hold and drag the dimension on the right downwards, it will decrease the height of the frame. Dragging it upwards will increase the height. Similarly, click, hold and drag the dimension on the top to the right, and its width will increase. Drag it left to decrease the width.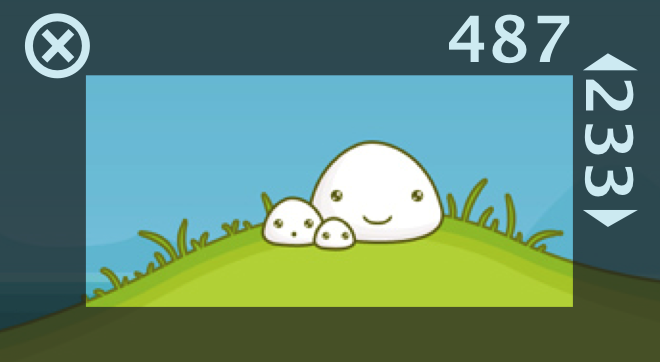 To move the frame around to a different part of the screen and still retain the size of your frame, click and drag your mouse around the greyed-out area. When the frame is left in its original position and resized, Framator ensures that the frame is always at the center of the screen.
As mentioned, this is more suitable for developers or users who need to create screencasts etc. Grab it while it's free, since there is no indication of how much it will cost when the promo is over.
Get Framator From Mac App Store