Gemini: Scan For Duplicate Files & Folders On Your Mac [Paid]
Do you often keep duplicate files on your system on purpose? Some people might do so to ensure they always have a copy of a file in its original format while they play around with the duplicate. Others might just accidently end up downloading the same file again and again and saving them to a different folder each time. Clutter creating habits aside, even the best of us end up with duplicate versions of the same files, and it is hard to track them down. Gemini is a Mac app worth $4.99 in the Mac App Store that is a superb duplicate finder. It doesn't automatically remove files; rather, it allows you to decide which ones to remove. The app can detect duplicates based on the name, and even if a file name is appended with (1) to avoid overwriting an old version, the app treats it as a duplicate as such.
The app has an excellent drag & drop interface, where you launch the app and drop any folder that you want to scan for duplicates on to the window. Depending on the size of the folder, it will take a little time to scan its content. The folder can contain sub-folders as well as files of any format.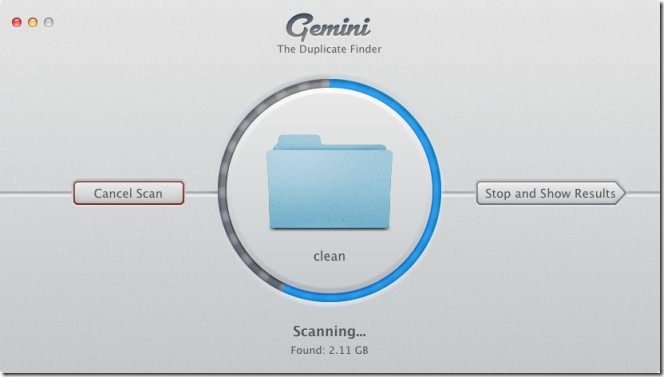 When the app finishes scanning the folder, click Show Results if it has found any duplicates, or click New Scan if no duplicates have been found and you want to scan another folder. The results are divided into three panels, the first panel All Files lists the type of files that duplicates have been found for. The second panel lets you sort the results either by size, type, name, count (number of duplicates found) and in ascending or descending order. The third and last panel lets you view the files in their directory and mark the ones you want to delete. To delete a file, check the Remove option and the file, along with all subsequent ones you check, will be queued for deletion. You can remove files from the queue by clicking the cross next to the notification. To permanently delete all files that are in queue, click Remove Selected.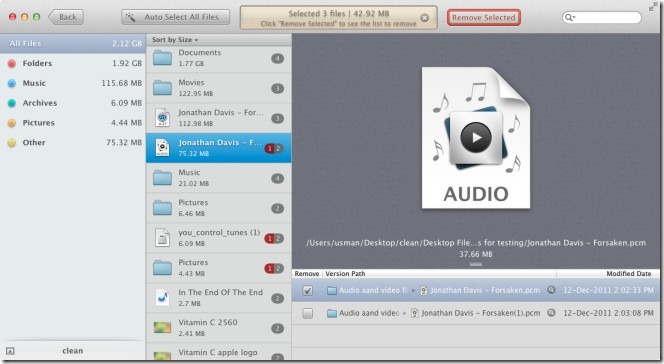 To explore files in a daisy disk graph, click the small arrow at the bottom left of the app window and the graph will appear. As you queue files to be deleted, they appear next to the respective file along with the total number of duplicates found. The numbers signify total duplicates and those that have been queued for removal. The app interface is amazing, as is its logarithm for finding duplicates. It might cost $4.99, but is worth it, for sure.
Get Gemini: The Duplicate Finder From Mac App Store